Photos of the Day
August 9 - Southern California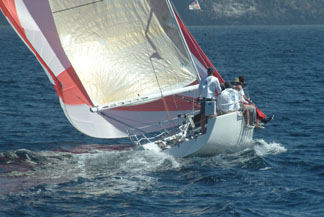 Buzz, a Henderson 30, just before Anacapa.
Can you imagine a 30-footer that rates 27 PHRF?
Today's Photos of the Day are from last Friday and Saturday's 81-mile Santa Barbara to King Harbor Race. We're happy to report that attendance was up about 15% from last year to 138 starters. While it's a fun race for everybody, with the course taking everyone out between Santa Cruz and Anacapa Islands, then back to the beach above Pt. Dume, then across Santa Monica Bay to Redondo Beach, the big pre-race drama was whether any of the monohulls would finally be able to finish ahead of Bill Gibb's 55-ft catamaran Afterburner. For the last bunch of years Gibbs has beat the monohulls in the Ensenada and King Harbor Races, so you know they were just dying to beat him. With Doug Baker's new Andrews 80 Magnitude still in Hawaii after the Pacific Cup, monohull hopes went with Richard and Mary Compton's newish Andrews 77 Alchemy. Like Afterburner, Alchemy came in with a rating of -141.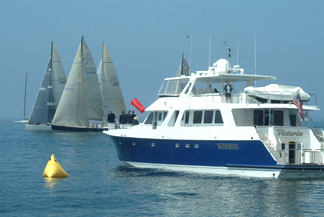 In the zephyr-like start, Mike Campbell's Victoria, the powerboat, plays race committee to Mike Campbell's TransPac 52 racing machine Victoria in the background.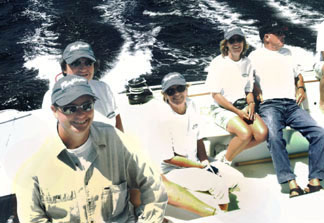 The Profligate crew began smiling once the wind and boat speed picked up above 10 knots.
This year's race started in 2-4 knots, and the top monohulls pulled away from Afterburner. But when the wind filled in to 5-8 halfway to the islands in screecher reaching conditions, Afterburner passed the monohulls, getting to the islands with a half-hour lead. There's a big lee from Santa Cruz, and Afterburner got stuck in her own personal hole, allowing several monohulls and one of the F-31 tris to break away back into the wind in the channel. Finding a maximum of 20 knots of wind at Dume, Afterburner overtook all her competitors to beat Alchemy across the finish line by 20 minutes, having completed the course in 8 hours and 9 minutes.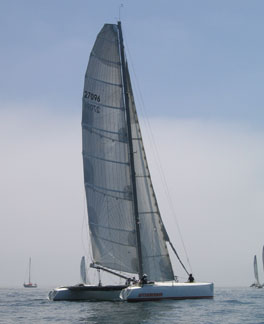 Afterburner
Photo Courtesy Lisa Renshaw-Gegg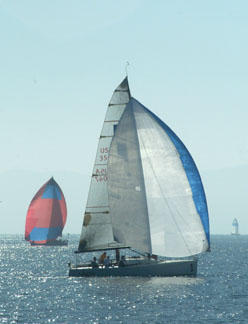 Pendragon and Ghost II ghosting along behind Santa Cruz Island.
Monohulls massacre catamarans in conditions such as this.
As for the dozen of us aboard Profligate, we had a fine time, with ups and downs. Armed with not much more than a storm jib for the ultra light air start, we got left in the dust. But it was kind of fun having Jake Wood's Mull 84 Sorcery slip by just to leeward of us. As was the case with Afterburner, once the wind built a little and we got the screecher up, we were able to roll lots of the monohulls, including a Santa Cruz 50 with a chute so big that it looked like it came off Mirabella.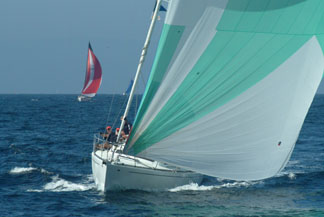 The SC 50 Main Squeeze just entering the lee of Santa Cruz Island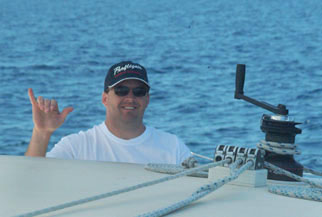 Mike Grant screeching Profligate toward Anacapa
Like Afterburner, we stuck like glue in the lee of Santa Cruz Island, but probably for twice as long. Once we broke free to the coast and Dume, we had an absolutely lovely run. Upon entering Santa Monica Bay just after sunset, the wind shut off completely. Knowing Santa Monica Bay as we do, and the inability of cats to move in light air, we bailed by 10:30 p.m. Eventually, 33 of the 138 boats would drop out. In our case, it was a smart move. A nearby SC 50, which can move in light air, took about 11 hours to cover the last 20 miles, and had to keep going back and forth between a chute and #1 to do it.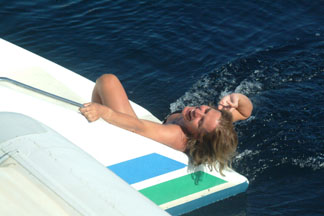 Hillary, one of the Profligate crew, playing water nymph
in the hot and windless lee of Santa Cruz Island.
All Photos Latitude/Richard
except where otherwise noted
Nonetheless, it was a fine time with fine folks, and we fully intend to be there again next year. The only other Northern California entrant we know was Paul Marston with his new F-31 trimaran Sally Lightfoot. Having won overall two years ago with an Antrim 27, Paul had high hopes. Alas, he was 7th in class. He'll do better next year. The Santa Barbara to King Harbor Race - everyone should put it on their calendar.