Photos of the Day
August 6 - Santa Barbara to King Harbor
In a couple of hours, we'll be taking off on the 81-mile race from Santa Barbara to King Harbor. As you can see from the photo of some of the gals on our crew, we've been assigned the letter 'O' - or maybe it's a zero, God forbid - to identify ourselves to the race committee. Actually, it's all our fault for not having racing numbers on our sails.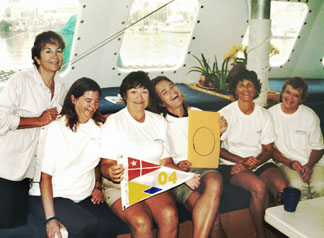 Anyway, we're told that this year's fleet is 140, a big jump from last year's group of 120. We think that's great, because this is a terrific race - as long as the wind holds, which it has the last two years. We may change our mind if we're slopping around off Pt. Dume 18 hours from now.

While in Santa Barbara, we've been seeing lots of old friends, including Mike Pyzel, who we first met when he did the Singlehanded TransPac back in 1998 with his Cal 28 - a boat he still owns and sails. We were also on hand for the Wednesday night race, which gets a great turnout. The sailing is pretty aggressive.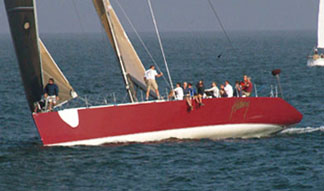 Alchemy at the Wednesday night race
Photos Latitude/Richard
In fact, Dick Compton's Andrews 77 Alchemy was sporting a big blotch of white near the bow where they apparently had some kind of recent collision with a J/24. Much worse, we hear, is the skipper of the boat who was hit in the head with a boom during a jibe a week or two ago, and who hasn't yet come out of a coma. Our prayers are with this sailor. We'll try to get more on the story. In any event, we hope the best of health and the best of sailing to everyone in today's event.