Special Edition
July 8 - Kaneohe Bay, HI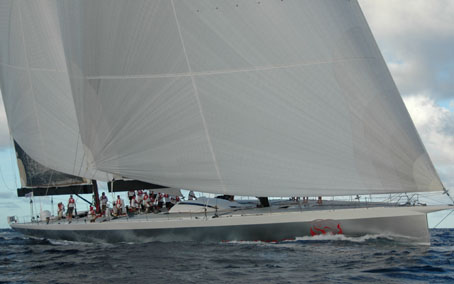 As widely anticipated, Bob Miller's all-carbon 144-ft modern schooner Mari-Cha IV has crushed the West Marine Pacific Cup record. Taking advantage of unusually direct but none too windy conditions, the less than year-old Hong Kong/Britain-based boat averaged 15.68 knots to cover the 2,070-mile course in just five days and five hours. In so doing, she beat the previous record, held by Roy Disney's R/P Pyewacket, by an astonishing 32 hours. Had there been more wind, Mari-Cha could have certainly broken the five-day mark. Having set the west to east transatlantic record last October, Miller has big plans for more records with his schooner. Among them, he wants her to become the first monohull to sail around the world in less than 80 days.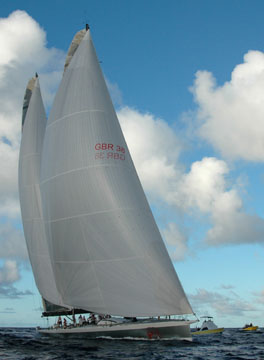 Mari-Cha IV crosses the Kaneohe Bay finish line
Photos Marston Myers
It will be interesting if this California to Hawaii record will be able to stand the assaults that will be mounted in next year's 100th anniversary of the L.A. to Hawaii TransPac. If the conditions are windy, two of the expected entries, Roy Disney's MaxZ86 Pyewacket and Hasso Plattner's sistership Morning Glory, are certainly capable of bettering the five-day mark. It's probably also within the reach of Doug Baker's Magnitude 80, which today should also break Disney's record in the Pacific Cup. Other boats that could probably do a five-day crossing are Randall Pittman's new Dubois 90 Genuine Risk and Hasso Plattner's cruising boat, the 147-ft R/P Visione. In her current configuration, Genuine Risk would not be eligible for the TransPac, and Visione never would be.