Singlehanded TransPac Update
July 7 - Pacific Ocean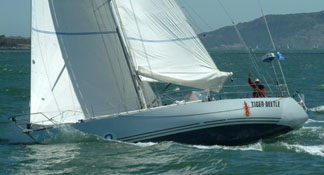 Tiger Beetle
The 21 boats in the Singlehanded TransPac are strung out across half the Pacific at this writing - with some great drag races going on. Closest to the finish at Hanalei Bay, Kauai, are the race's two big boats, with Chuck Beazell's Hunter 54 Joe maintaining a slim 15-mile lead over Al Hughes' Open 60 Dog Bark. As of last night's reported positions, both boats have under 400 miles to go and should finish sometime tomorrow afternoon or evening. Mark Deppe's J/120 Alchera is currently in third position about 100 miles behind the leaders. The race for fourth is a real nail-biter, with Rob Macfarlane's N/M 45 Tiger Beetle and Erik Schwartz's SC40 Rusalka in a dead heat about 50 miles behind Alchera. Next in line are Frank Ross's Olson 30 Prankster, and Jim Tallet's J/33 Zapped - whose positions seem to be within spitting distance of each other. Farther back, Ken 'The General' Roper aboard the Finn Flyer 31 Harrier is hot on the heels of Phil MacFarlane's Ericson 35 Sail A Vie, and all three Moore 24s are within about 30 miles of each other. And so it goes.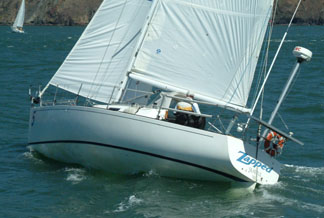 Zapped
Time will tell whether the later arrivals in Hanalei Bay will correct out ahead of the early boats - as in 2002, when Jim Kellam's Spencer 35 Haulback finished last but corrected out to first. Jim's still very much in the running again, though not quite at the back of the pack this time. Barbara Euser aboard the Bristol 34 Islander is currently in that position.
Both Kellam and Mark Deppe post long and interesting accounts of the race twice daily on the Singlehanded Sailing Society Web site (www.sfbaysss.org). From those logs, it was easy to see this race differs from previous ones in one big way: fishing. Almost everyone seems to be trying their hand at it, even Deppe, who admits next to no luck in this pursuit over the years. But when he hauled a nice mahi aboard yesterday and had the seasoned filets for dinner, he noted, "I could get used to this."
Al Hughes aboard Dog Bark also got lucky. He was in fluky winds and figured, "I'd try my hand at fishing since the sailing wasn't doing much for me." He got a 7-pound mahi "before the line was even tied down." The resulting meal did much to buoy up his spirits.
And speaking of spirits, it's always good to keep them happy. A couple of days ago, Kellam and Dan Alvarez on the Ericson 30 Miss Laney were chatting after morning roll call. Jim was bemoaning the fact that the wind in his patch of ocean had fallen off to almost zilch. Dan suggested sacrificing a handful of ice might help. (Kellam still had plenty of ice; you may recall that the combo of dry ice and cubed ice in his icebox froze his food into a solid block early in the race.) "He cautioned me not to toss too much over the side as that may bring too much wind," notes Jim. So he carefully scooped up exactly one handful and chanting secret Costa Rican voodoo spells, consigned it to the deep. Shortly after, the wind filled in to a nice, spinnaker-flying type of breeze that held most of the day. Wonder if those guys on Mari-Cha know about this trick?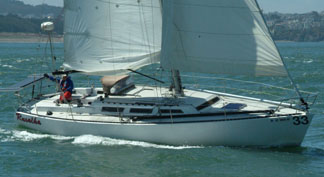 Rusalka
Photos Latitude/Richard
Quote of the Day: "When you sleep with the kite up going deep, you leave your sea boots on." Erik Schwartz, Rusalka.