Photos of the Day: UBS Cup
June 21 - Newport, RI
Today's Photos of the Day are from the UBS Cup racing between friendly old America's Cup foes Alinghi, the America's Cup winner from Switzerland, and BMW Oracle from the Golden Gate YC in San Francisco. The action took place this weekend in Newport, RI, the long-time home of the America's Cup, which hasn't seen A-Cup action in 21 years. As opposed to the old days when they sailed in 12 Meters and offshore, the UBS Cup - which continues all week - features IACC boats racing in the very tight quarters of Narragansett Bay.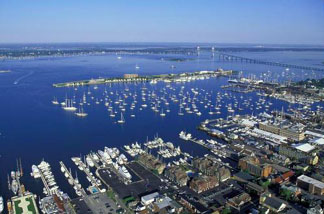 Newport
Photo ©Onne van der Wal
The action has been very exciting, with the Pro Driver Series currently tied at 2-2. Peter Holmberg, who in the last America's Cup sailed for Oracle BMW, is now driving for Alinghi since Russell Coutts and the Swiss syndicate seem to have had a falling out. Gavin Brady is driving for Oracle with Northern California's John Kostecki calling tactics. To add to Alinghi's crew woes, mainstay Brad Butterworth was out of action after suffering a broken ankle in a car accident. Nine more races are scheduled this week.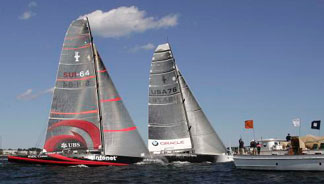 BMW Oracle on the starting line of Race 4
Photo ©Thierry Martinez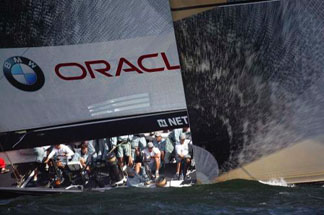 BMW Oracle sailing in a nice breeze
Photo ©Thierry Martinez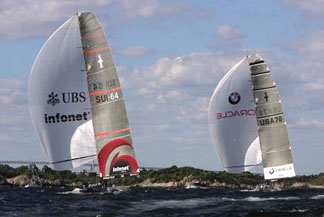 BMW Oracle, USA 76, leading Alinghi, SUI 64, in the last downwind leg.
Photo ©Thierry Martinez