" . . . there were several more shots fired . . ."
June 18 - Barranquilla, Colombia
In Wednesday's 'Lectronic, we reported that two West Coast cruisers were attacked on their boat in Colombia. Today we have an edited firsthand report from the victims, Bob Hudnall and Dana Cannon of the Long Beach-based Force 50 Doña Lee. The couple did the Ha-Ha last fall.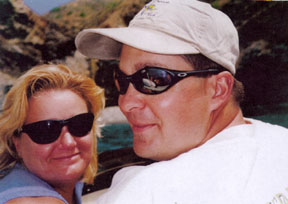 Dana Cannon and Bob Hudnall of Doña Lee
Photo Courtesy Doña Lee
"We were anchored in the Rio Magdalena River at Barranquilla, Colombia - about 80 miles northeast of Cartagena in the Caribbean - to work on a fuel problem we were having. We'd just finished dinner, it was about 6:30 p.m., and we were down below in the cabin. Having completed our repairs, we planned on getting underway again as soon as I'd put things away from dinner. For some reason Bob had locked the hatch to the companionway doors - and it's truly what saved us. I heard a noise on deck, and at first believed it to be Bob. But at about the same time he said, 'What was that?' I started screaming - I'm not sure why, as no one was there to hear me or care, except Bob, of course, who had come to the same conclusion as I: somebody had boarded our boat. Eventually we would learn it was five men, while a sixth stayed in the panga.
"Then someone was kicking at the companionway hatch. I ran to the forward cabin, while Bob grabbed the bear repellent, machete, and flare gun he keeps by our bed for protection. Just as the assailant was able to kick in one side of the door, Bob started spraying mace at the guy. But the pirate shot the can out of Bob's hand. He fired several more shots to keep Bob at bay while he tried to break through the other side of the companionway door. Bob unloaded another can of mace at him, and then started firing flares in his direction. When Bob was out of mace and flares, he started hacking at the guy with his machete. Every time a hand or foot would come through the companionway hatch trying to get into the cabin, Bob would swing at it with his machete. The entrance to the inside of our boat now reflects that it had been a battle scene. The whole time this was going on, the guy was shooting his gun at Bob. When he ran out of bullets, he took everything he could find on deck and threw it at Bob through the companionway door.
"As this was going on, I was in the V-berth trying to find a weapon of my own. Since it was dark, the only thing I could find was the fire extinguisher. Bob later yelled that there was another flare gun in the cupboard. I found it, loaded it, and - avoiding the gunfire - got it to Bob. By now the fumes from the nearly full can of mace that exploded inside our boat were overpowering, and Bob was drenched in it. I was trying to open a porthole for air when I saw the panga the assailants come in speeding away from our boat. I waited a second to see if they had left anyone behind. Not hearing anyone, I yelled to Bob that they had left.
"He went up on deck and issued a Mayday on channel 16. We have a VHF radio in the cabin, but it's a handheld, and the batteries were dead. Within a half hour of issuing a Mayday, the Colombian Coast Guard was there. They escorted us back to the navy base, and we side-tied to a frigate. Bob was taken to the hospital for a cut on his finger and for an allergic reaction to the mace.
"The thieves got away with our outboard, liferaft, and our ditch bag - with credit cards, passports and handheld electronics in it - and two jerry jugs of diesel fuel. The Colombian Special Police - similar to our FBI - were able to find an informant who knew where our belongings were and who had them. They raided the guy's house and found our outboard, passports, and credit cards. Our electronics and liferaft had apparently already been sold. The police claim they know who has these items, but aren't hopeful that they will have them back to us before we leave Colombia. We'll see. At least we got the outboard and our passports back, both of which are more important to us than the handheld electronics.
"We are now in Cartagena making repairs to the boat caused by bullets and machete slashes. We've also got to varnish, as mace eats right into it. We've been talking to a delivery captain about taking the boat to Puerto Rico for us, and meeting her there. We're worn out and can't do this trip again.
"We've had many responses to our story. Most people say, 'Thank God you're okay.' But there are various opinions on how we should have responded. Most believe that if we had let the pirates inside the boat, they would have taken what they wanted and left. We disagree, as they started shooting at us before they said anything. In fact, they never said anything. We believe they wanted to kill us and take our boat. A Colombian man Bob met said he believes they would have kidnapped one of us, sold us to the guerrillas, who would have ransomed us back to our family. That's not unusual here in Colombia. All I know is that we both came out of it scared and nervous about being anywhere in Colombia - except the Club de Pesca in Cartagena. But we didn't sleep the first night we were back here, because we had to anchor out.
"Physically we were unharmed, and that's the most important thing to us. We always wondered what we would do in the case of a pirate attack. We'd always hoped thieves would just take things and leave if we didn't fight back, but we wondered if fighting back was the only thing that would save our lives. In this case, it was very clear to us that they intended to be violent from the start, and our passivity wouldn't have made a difference.
"Our advice is to stay as far offshore of Colombia as possible. We were 10 hours behind a Puerto Rico-based sportfishing boat that makes the trip all the time, and he told us to hug the coast as much as possible. Bad advice! We have heard of three other boats that have been pirated in that area. One of them was 10 miles offshore. One of the boats was lost.
"On a positive note, the Colombian government bent over backwards to accommodate our every need and get our belongings back. They saw to it that Bob got free medical treatment, and they got me to a place where I could go online and cancel our credit cards. We didn't keep all our cash or credit cards in the ditch bag. We'd heard about the Japanese couple who were attacked by pirates 100 miles off the Pacific Coast of Colombia while on their way to the Galapagos, and the pirates got everything. So just in case something like that happened to us, I kept another stash hidden inside the boat. As such, we're not without money or credit cards until the new ones reach us.
"We are bound for St. Thomas as soon as our boat reaches Puerto Rico. We'll feel much safer in the Virgins under Coast Guard protection."
For a few years, it seemed like the coast of Colombia had become safe. To our thinking, cruisers should consider it off-limits again - except for Cartagena. And as the robbing of John Haste on Little Wing proved, you even have to be careful there.
As for Bob and Dana thinking they can feel safe in the U.S. Virgins, we think that's true - as long as they're back on their boat at night. Places like Charlotte Amalie can be dicey after dark. The British Virgins are much safer.