Profligate's Regress Complete
June 2 - San Francisco Bay

Finishing up extremely strong, Profligate was back on the Bay in time to sail on Saturday and Sunday of Memorial Day Weekend. It was great to be back sailing in such a spectacularly beautiful urban environment - especially since it was so warm on those two days. Here's a recap of her return trip from Antigua to San Francisco:

Antigua to Panama: 1,150 miles in 5.5 days. It mostly blew 18 to 22 knots, always from aft, with lumpy seas. The surfing opportunities were endless, and during this leg the cat hit her highest speed ever of 25.3 knots. (The Wanderer got off in Panama, at which point Doña de Mallorca was co-captain with Bruce Ladd to Puerto Vallarta, and co-captain with Roberto Sutherland the rest of the way to San Francisco. Other crew on the Pacific side included John Pettitt, Wayne Bingham, Ian MacLean, and Jim Milski. Everyone got along extremely well.)

Atlantic side of Canal to Pacific side of Canal - six hours. Rapid transit!
Panama to Nicaragua: 698 miles in 3.5 days. Five-hour pit stop.
Nicaragua to Acapulco: 780 miles in 4 days. 12-hour pit stop.
Acapulco to P.V.: 436 miles in 2.5 days. 12-hour pit stop.
P.V. to Cabo: 320-miles in 36 hours. 26-hour pit stop.
Cabo to San Diego (with four hours in Turtle Bay):
730-miles in five days. Four-hour pit stop.
San Diego to San Francisco - 451 miles in 48 hours.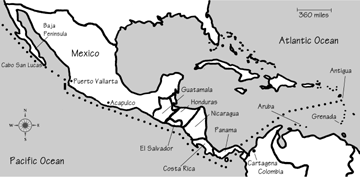 At one-month-to-the-day from Antigua to San Francisco, it was clearly an extremely fast trip. Some of the reasons were consistent following winds down to the Canal, then flat seas and light headwinds from Panama to San Francisco. Doña de Mallorca reports the strongest winds on the way up from Panama were 25 knots - right under the Golden Gate Bridge! It was calm all the way from Panama to Puerto Vallarta. From P.V. to Cabo, and from Cabo to San Diego, it blew 20 knots at the most, but was usually much lighter. The biggest seas were 6 to 10 feet along the Baja Coast, but only for a relatively short time. From Panama to San Francisco, the idea was to motor all the time to beat the June 1 start of the Eastern Pacific hurricane season. As it was, Tropical Storm Agatha kicked up two weeks before the start of the season and chased Profligate shortly after she left Puerto Vallarta.

Commander's Weather played a significant role in the rapid delivery. Specifically, when Agatha, which was to blow as high as 55 knots, began to form, Commander's gave the okay to leave Cabo for San Diego. Commander's was also critical in the fast trip from San Diego to San Francisco. We planned to spend some time in Southern California having fun and waiting for a weather window, but when Commander's reported there was a 2.5-day window along the Central California coast, the decision was made to jam north. Having rounded Conception and Sur in flat seas and no wind, Profligate made it inside the Gate just as 25-knot winds were starting to blow and the seas were starting to build. Had she not made it into the Bay then, it would have been days before there was an even marginal opportunity to come north. So much of the fast trip can be attributed to luck and the fact that the weather routers were there to identify the windows.

For the record, Profligate is powered by two 56-hp Yanmar diesels which, because speed was more critical than fuel economy, were both run at the same time. They burned 1.5 gallons of fuel per hour. What lessons can be drawn from this trip? 1) Unless you have a very fast boat with a relentless delivery crew, it's crazy to think you could leave California at the end of the Mexican hurricane season and make it to the Eastern Caribbean before the reinforced trades start for the winter. It's a two-season deal - although you could make it to the Western Caribbean by late in that first season. 2) If you're going from the Eastern Caribbean to California, you should leave the Caribbean for the Canal by April 1. 3) Weather routing services can be extremely helpful, as is the means of commuicating with the service. 4) For maximum sailing pleasure and the best weather, don't have any time contraints.

| | | |
| --- | --- | --- |
| | | |