The Sailing Solution for a Northern European Winter
May 28 - Northern Europe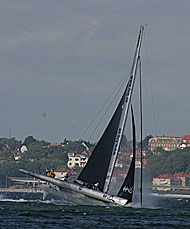 When you live in Northern Europe, the sailing season is extremely short, so you have to get your sailing in while you can. Right now they are about to start the Nokia Oops Cup - the name for which may have come from the 60-ft tri HiQ, seen poking her bows in the water. The Oops Cup takes place all around the Baltic in Finland, Sweden, Norway, Denmark and Poland. The first race in the Nokia Oops Cup will be held in Helsinki on May 30; the last in Gdansk, Poland, on July 11. In between, 'city' events will be held in Stockholm (June 5), Oslo (June 10-11), Gothenburg (June 16), Helsingoer (June 18-19), Copenhagen (June 21) and Sandhamn (July 3-4).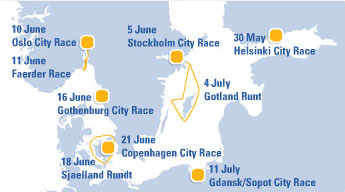 Photos Courtesy Nokia Oops Cup
Several types of races are included in the Nokia Oops Cup. 'City' races are short course races, held close to the shore, as well as the Speed Races, which are to see who can hit the fastest speed. The remainder of the races are the leading Nordic ocean races, such as the Faerder Race in Norway, the Sjaelland Rundt in Denmark and the Round Gotland Race in Sweden. The ocean race from Sandhamn, Sweden, to Gdansk, Poland, will be a doublehanded race, a novelty for the Nokia Oops Cup.