J/Fest Regatta
April 19 - San Francisco Bay
The 25th annual J/Fest Regatta, co-hosted by Sail California and Encinal YC, was held over the weekend. J/Boat president Jeff Johnstone came out from Newport, RI, to watch the festivities, and liked what he saw. "This is the original J/Fest, and still one of the strongest," he noted.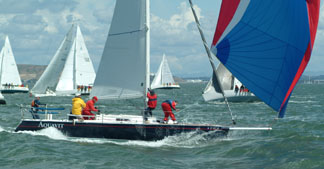 Tim Russell's winning J/105 Aquavit
On Saturday, the four classes sailed three fairly windy races on the Treasure Island course, with the third race finishing up the Estuary. Sunday's racing was much tamer, and race manager Matt Jones called the day off after only one light-air race. Class winners were Mr. Magoo (J/120, Steve Madeira), Aquavit (J/105, Tim Russell), Kiri (J/35, Bob George) and Jaded (J/24, Deke Klatt).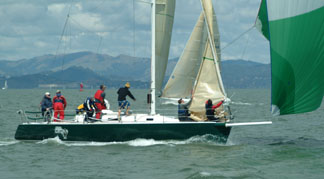 Mr. Magoo won their division despite splitting their mainsail in the third race on Saturday.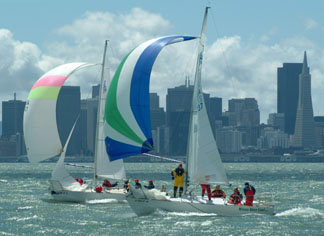 J/24s sail by the San Francisco skyline.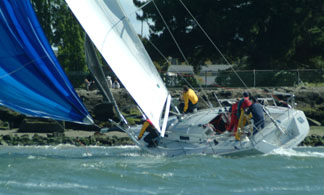 Arbitrage spun out onto the breakwater and had to be rescued.
Photos Latitude/Rob
Results will be posted at www.encinal.org and/or www.jfest.org within a day or two. Sponsors of the fun weekend, which was dubbed 'Norman and Pat's Inaugural Ball', included J/Boats, J Vineyards and Winery, West Marine, North Sails, B&G and Sunsail.