Only Idiots Live Aboard Iced-in Boats
April 14 - Wickford, Rhode Island
"Thank you for considering my request for a giant boat de-icer with my subscription renewal," writes Christine Watson of the Cal 36 Clarity, which is berthed in Wickford, Rhode Island, which sounds like some sort of frozen wasteland. "Normally Latitude is my salvation during the cold winter months, but this year's cold exceeded even Latitude's ability to warm me, no matter how many issues I wrapped around my neck and stuffed into my boots.

"What is a sailor to do when faced with the harsh realities of living aboard a boat during the coldest New England winter in 100 years? Escaping the slip for one last sail on December 29, I enjoyed the solitude of having all of Narragansett Bay to myself, while sailing at 8 knots on a 15-knot breeze. Temps were mild enough to lull me into thinking that this winter might not be so bad after all. A scant one week later, the boat became untenable when the ice in the harbor became so thick that all the thru hulls, bilge pump, water tank and whale gusher foot pumps froze solid overnight! This even though I thought I was doing a fair job of tending to them. I took the warming lamp off the batteries long enough to use it to try to thaw the bilge pump. The batteries froze before I got the lamp back on them two hours later, despite being two feet away from the hull and only six feet from the space heater!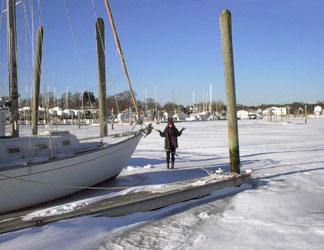 "Despite the electric blanket, frozen bedding still had to be peeled off the walls on a regular basis. This was especially disheartening, considering I had glued up two layers of Reflectix insulation in the v-berth, and covered that with foam-backed vinyl, in the hopes of preventing such a calamity! Deciding that only idiots and/or insane people try to live aboard iced-in boats, and not quite ready to fall into either category, it was time to admit that remaining in New England for the winter was a really dumb idea.

"With absolutely no chance of getting the boat free until spring, I packed the van with snorkeling gear, sailing dinghy, my dogs, a friend who was in the same boat, so to speak, and his motorcycle. We pointed south and floored it as well as one can with a van so loaded! After dropping my friend and his motorcycle in Tampa, I headed to Marathon Key, where I basked aboard a friend's Camper-Nicholson 40 for a couple of days before we sailed the boat to Key West. The highlight of that trip was snorkeling on Sand Key Reef, seeing about two dozen parrot fish about the size of my forward hatch, feeding on the bottom, with a nurse shark hovering just above them.

"While in Key West, we anchored off Wisteria, or Christmas Tree Island. The island itself had an interesting and attractive assortment of flora and fauna, but was covered with trash, as well as having a lot of wrecks washed up on the beaches. There were also several camps set up around the island. Some of the not-very-well-kept ones were extensions of the boats anchored nearby, and a few were those of adventurous types seeking a unique experience. The funky mix of people and boats in Key West was a treat after staid old New England. There were expensive yachts mixed in with craft that could be hardly called boats and were barely afloat. Ashore, Mallory Square seemed to be the mixing pot for people from all walks of life, including cruise ship and land-based tourists, the homeless, street performers, artists, and punk kids, with quite a few cats and dogs wandering among the throng. The chickens seemed to avoid the sqaure, prefering less crowded parts of town. I enjoyed the lack of frozen salt water, the variety, and more relaxed pace of life in the Keys, but my overall impression remains one of mass quantities of garbage scattered everywhere.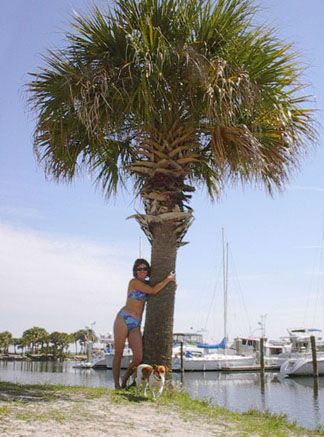 Photos Courtesy Clarity
"From the Keys, a winding, exploratory drive took me to Titusville, where I re-connected with the friend I had left in Tampa, who had by then nearly circumnavigated Florida on his motorcycle. While in Titusville, we stayed aboard a 1925 Chesapeake Bay oyster boat, Old Squaw, which had been converted into a comfortable yacht by the Hinckley yard. I hopped on the back of the bike and together we hit Bike Week in Daytona. Thousands of rumbling Harleys and acres of denim and leather were quite a change from the sailing scene! But there were still many similarities in the camaraderie, friendliness, and willingness to help each other out.

"Then the word reached Florida that the ice in the Northeast had melted, so it was time to head north again. Upon our return, we were greeted with four days of snow driven by a howling wind. I guess we should have waited another week. Regardless, there was no more ice in the harbor, and buckets of rain washed away the evil snow. It was a relief to find the boat in good shape after being left alone and frozen for six weeks, but there are a lot less pilings left holding the docks than there used to be. Fortunately, in only a few short months, our several weeks of summer should be here!

"Next fall my boat will be heading south with the rest of the smart cruisers! I've said it before, and I'll say it again until it sticks: No more ice, unless it's in my cocktail."
Thanks for the letter and photos. How folks can live where it's so cold and gray for much of the year is beyond us. We can't even take winter in reasonably-temperate San Francisco. But we're not as spoiled at the locals of St. Barth, many of whom don't go in the ocean in the winter because the water temperature has dropped to a relatively frigid 79°!

We'll be expecting a full report on your cruise next winter.