Briela Out Of Mexico
April 12 - Central America

"After three seasons in Mexico, we've moved on to El Salvador," report Michael and Catherine Whitby of the Vancouver-based Contessa 38 Breila. "We went in company with Indra, who headed straight across the Gulf of Tehauntepec with us, while Lady Galadriel, Lady B., Ocean Child, Katie Rose, and Perceptions all headed to Barillas Marina, which is 35 miles further on.

"A lot has been written about the increasing costs of cruising Mexico - in particular the onerous check in and out procedures, together with the increasing number of port captains requiring agents for this simple but time-consuming process. For the last two years, we have made a point of legally avoiding having to check in by bypassing ports with port captains. We traveled in excess of 2,500 miles in Mexico each year, and managed to limit our having to check in to just three times each year. We visited many old favorite anchorages and many new ones without breaking any laws. It takes control and planning, but it can be done - just don't expect to be able to marina hop!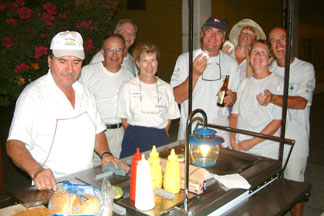 Michael and Catherine, fourth and third from the right,
enjoying a late night burger with cruising friends in Zihua back in 2003.
Photo Courtesy Breila
"By the way, cruisers Murray and Collette of Terazed have five acres of waterfront land in El Salvador where they are developing a boatyard. The rumor is that their 35-ton Travel-Lift should arrive any day."
When in Mexico with Profligate, we employ a similar avoid-places-with-port captains strategy. It's partly the money, it's partly the principle, but also it can prevent people from moving around freely enough to make plane reservations. Mexico is a great place to cruise, but they're giving their country a bad reputation with the foolish clearance procedures.