Cayard Drops Mast, then Wins Both Races
March 24 - Miami, FL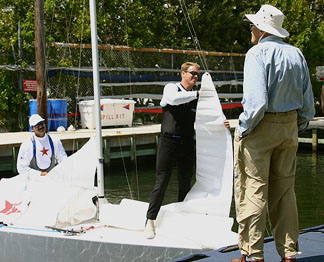 Paul Cayard and crew Phil Trinter greet Bill Parks, a U.S. bronze medalist in the Star class of the Olympics at Naples in 1960. Parks later watched Cayard and Trinter win both races Tuesday.
Rich Roberts reports on the racing on Biscayne Bay:
Not quite halfway through the U.S. Olympic Trials for the Star class it appears that the only two guys who can stop Paul Cayard and crew Phil Trinter from winning the sole prize trip to Athens are . . . Cayard and Trinter.
And they nearly did so Tuesday, before winning both races to extend their lead to 14 points over Vince Brun/Mike Dorgan and 15 over George Szabo/Mark Strube after 7 or 16 scheduled races.
"We basically broke our mast on the way out to the course," Cayard said.
Oh, is that all?
They had just exited the harbor into windy Biscayne Bay when the backstay slipped out of its cleat and their Olympic campaign almost came tumbling down. If it had happened later - say, late in the first race, with no time to change before the second race - the event would be looking at new leaders.
Instead, they got a quick tow back in and replaced the mast in only 17 minutes.
"What's good is we kept our composure and were settled down at the starting line," Cayard said.
Composure was an asset on a day when the wind was blowing so hard - a steady 20 knots-plus, touching 29 at one point - that the race committee held the boats ashore for an hour and a half until 11:30 a.m. when it seemed to be settling at 20.
From there, after the mast hiccup, Cayard and Trinter scored their second and third wins by nine seconds over Brun/Dorgan and 20 seconds over Szabo/Strube. Their log of finishes in the 22-boat fleet now reads 2-(6)-1-2-3-1-1.
The latter teams moved up a notch as Eric Doyle and crew Brian Sharp, who won the first two races Saturday, dropped to fourth overall with their worst two finishes, 10th and 12th. More significant was their involvement with Mark Reynolds in an incident at the start of the second race that set back the four-time Olympian and triple medalist just as he appeared to be finding his stride.
Reynolds, with crew Steve Erickson, made his move from seventh place overall by chasing Reynolds across the finish line for second place in the first race. But in the pre-start maneuvering for the second race Reynolds found himself squeezed off between Doyle and the committee boat.
When they touched, the foul was on the windward boat - Reynolds - requiring a 720-degree penalty turn (two complete circles) as the fleet sailed away. Reynolds/Erickson did well to come back to 15th place but actually moved up a notch to seventh in the standings.
"He was just 'barging' and hit us," Doyle said.
"Reynolds and Erickson didn't deny guilt but thought Doyle pressed his rules advantage a bit too far when he could have accelerated away with the gun.
"Basically," Reynolds said, "he put us in a position where the only way you can get out [without fouling] is to tack [the other way]" - which would have been almost as costly as a penalty turn.
With the strongest breeze so far, the race committee set a longer windward-leeward course and sailed it twice around.
Cayard had two strong starts. In the first race he picked his favorite spot at the pin end and led Reynolds on the second upwind leg as they met from opposite sides of the course at the windward mark. They both passed early leaders Andy Lovell/Magnus Liljedahl, then Cayard covered Reynolds all the way home.
In the second race Cayard started near the middle of the line and led at every mark without being seriously challenged.
With a lay day today (Wednesday), the RC hopes to return with three races Thursday to get the event back on schedule for the last four days into Sunday.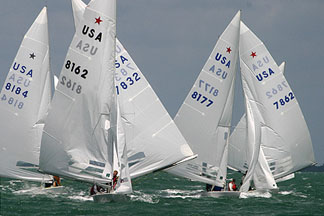 Downwind legs in close quarters were wild Tuesday. Bunched up are (from left) John MacCausland/Brad Nichol (8184), Andrew MacDonald/Austin Sperry (8184), John Dean/Henry Sprague (7832), Karl Anderson/Ezra Culver (8177) and John Virtue/Scott Pack (7862).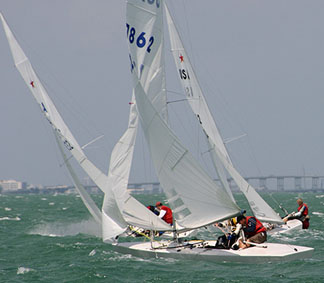 John Virtue and crew Scott Pack try to hold things together after rounding the leeward mark.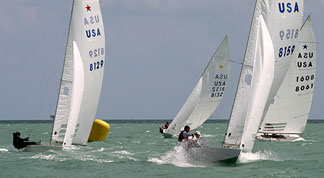 Paul Cayard/Phil Trinter lead Mark Reynolds/Steve Erickson on the windward offset leg, with Vince Brun/Mike Dorgan in the background.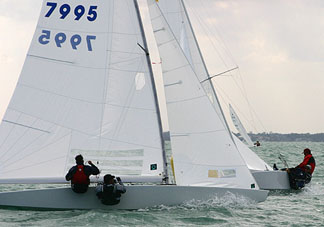 George Szabo/Mark Strube round the windward mark just ahead of Vince Brun/Mike Dorgan.
Photos Rich Roberts
Leaders (22 boats, 7 of 16 races, one discard):
1. Paul Cayard/Phil Trinter, San Francisco, 2-(6)-1-2-3-1-1, 10. points.
2. Vince Brun/Mike Dorgan, San Diego, (23/OCS)-9-2-1-4-5-3, 24.
3. George Szabo/Mark Strube, San Diego, 4-5-(14)-9-14-2, 25.
4. Eric Doyle/Brian Sharp, San Diego, 1-1-9-8-5-10-(12), 34.
5. John MacCausland/Brad Nichol, Cherry Hill, N.J., 6-8-3-6-10-(15)-5, 38.
6. Mark Reynolds/Steve Erickson, San Diego, 5-2-10-7-13-2-(15), 39.
7. Howie Shiebler/Will Stout, San Francisco, 3-3-6-(23/OCS)-12-9-6, 39.
8. Rick Merriman/Bill Bennett, San Diego, 7-4-(17)-13-2-7-9, 42.
9. Andrew MacDonald/Austin Sperry, Laguna Beach, Calif., 11-7-5-4-6-(13)-10,
43.
10. Andy Lovell/Magnus Liljedahl, New Orleans, (23/OCS)-23/DNS-4-3-11-3-7,
51.
For complete standings, see: www.ussailing.org/olympics/olympictrials/2004