Profligate's Progress
February 2 - St. Barth, FWI
From the various reports we've sent, you might get the idea that everyone who comes to St. Barth by boat is a zillionaire. Au contraire. Because if that were the case, it would be a very boring place. Check out the photo of the three folks in Mistress Blue, a Transat 20. They are Jim Green, his wife Anna, and three year old daughter Tiki.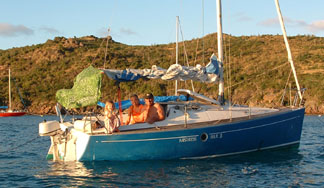 Jim, Anna, and Tiki on the 20-ft Mistress Blue, which they borrowed for their current visit to the island.
A true Yankee from the Northeast, Jim came to St. Barth in the early '70s when it was a sleepy little island with hardly any visitors. Between circumnavigations and his time in the Northeast, he's been coming back to St. Barth ever since. We say circumnavigations because he's done three of them. You know Hank Easom's 8-meter Yucca? Very low freeboard, not much room inside? Well, a 9-Metre is similar in style, just a tiny big longer. Green has been around the world three times in his 9-Metre, which was built more than 50 years ago in Norway. "You go with the boat you've got," he explains with a laugh.
When Jim was 47, he passed through St. Barth on the start of his second circumnavigation. While there, he asked the 20-year-old Swedish gal behind the counter of Cheeseburgers in Paradise if she'd like to sail to Panama with him. She said, 'yes'. She's been with Jim for two circumnavigations and a three-year old daughter. Anna admits that going around the world in a 9-Metre wasn't always the most comfortable ride in the world. "Sailing across the Indian Ocean, we were on a reach for 23 days in strong winds. We were heeled over so far so often, we had seaweed nine inches long growing on the leeward deck! Jim kept telling me it was going to get lighter, but it never did. Just don't say anything, I finally told him."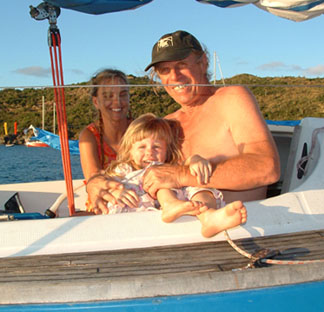 Anna, Tiki, and Jim
With his 9-Metre, Jim was one of the first guys offering charters in the St. Barth area. There was room for two people in the main saloon. When he went to greet one of his first charter couples, the gentleman was in a wheelchair. Jim makes the best of any situation, and the couple even came back for a second charter.
Jim has known some bad times on the island, too. St. Barth has always had the most basic health care. Indeed, even today there is no trauma center, and it's illegal for babies to be born on the island. Many years ago, a friend of Jim's had a heart attack and was in immediate danger of dying. It was dark, and the island's already dangerous runway had no lights. But it was a life and death situation, so a pilot volunteered, and took off with the patient, a doctor, and the patient's seven-months pregnant wife. The pilot must have lost the horizon, for the plane plunged into the bay at the end of the runway, killing everyone. Good times and bad times, Jim's known them all. If all goes well, you'll be able to read about them in the March 1 edition of Latitude 38.
If we're a little bit bushed, we attribute it to the fact that Chris and Carolyn Bridge, and more importantly their three little rascals, were back at St. Barth with their Outremer 55 Light Cheval from Corona del Mar. The two oldest kids, Tristan and Ethan, who are about to enter first grade and kindergarten respectively, went boogie-boarding with us at Grand Saline, accompanied by their dad. Despite what were overhead waves for them, they were relentless in their fun, both when getting fun rides and when getting pummeled. We could hardly keep the pace. They are not only very knowledgeable in the water, they are very knowledgeable in general, too. When they were home over the winter, Carolyn had their teachers for the upcoming year evaluate their status relative to their peers. She was told that the kids were far advanced. Maybe it has something to do with all the reading instead of watching television, and the world experience cruising in Europe and in the Caribbean. And then there's little Cheyenne, who is about two years old. What a little cutie! We haven't gotten such wonderful hugs since our daughter Lauren was that age. We hated to see them leave the next day, but mom and the kids have to fly home in 10 days to get the kids back in real school, while Chris is joined by some friends for the trip through the Canal and back to California. Bon voyage to them all!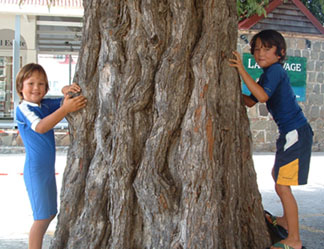 Ethan, left, and Tristan, right, climb a tree in Gustavia.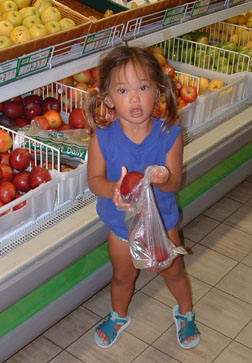 Cheyenne bags some apples at the grocery.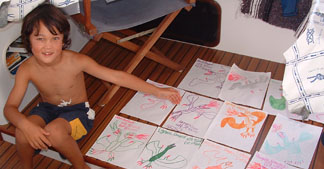 Tristan's collection of dragon art
As for us aboard Profligate, we're about to leave St. Barth for a few days. Even though we're leaving in half an hour, we haven't decided whether we're sailing to Anguilla, St. Martin, or St. Kitts. So many delicious choices.
February 4 - St. Barth, FWI
Our apologies because our Monday report didn't make the Monday 'Lectronic Latitude. We'd saved and sent our document to the office as a Word file rather than 'text only', and that made a mess of everything. In any event, we decided to sail over to St. Kitts. But before we could leave, Glenn Harman of Santa Cruz rushed over from the Catana 47 catamaran La Vie en Rose that he's been running for the last year or so. "I'm glad to hear you'll be doing the Heineken in early March," he said, "because we'll be racing in it again this year with the Catana. Last year we were in the same division as Steve Fossett's PlayStation, so it was really exciting at the starting line. We corrected out in front of them. This Catana 47 is a really fast boat." We're really looking forward to the Heinie, as we know for sure that John Haste's Perry 52 Little Wing, the Atlantic 55 Rocketeer, La Vie en Rose, Profligate, and a bunch of other cruising cats will be there. Doña de Mallorca tells us there is one more slot for a couple on Profligate for the Heinie/St. Barth week in early March, so if you're interested, email her.
We'd darn near made it out of the harbor, when there was a couple waving from the bow of another boat, and the woman was wearing a Some Like It Hot T-shirt from the Baja Ha-Ha. As we jibed and tacked around their boat, they yelled out that they were Bob and Kristen from the '99 Ha-Ha on Nai'a, which appeared to be a Swan 53. "We've been in the Caribbean for three years," they yelled, "and haven't been able to leave." We made plans to meet up later this week. We had a fine close reach followed by a broad reach over to St. Kitts in about 13 knots of wind with flat seas. In the close reach, we were doing 9s and 10s, then for the broad reach we hit 12s, 13s, and 14s with the little screecher. It was so sweet, making us understand why Bob and Kristen have been down here for three years. We enjoyed the scenery so much on the leeward side of the island that we didn't reach Basseterre until well after dark, which is really stupid, of course. Nonetheless, we managed to dodge all the ship mooring buoys to drop the hook. A short time later, we got the perfect present - a big squall to wash down the boat.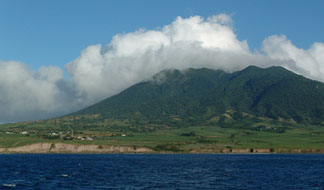 Landfall at St. Kitts, with the cane fields in the foreground and the rain forest and volcano crater behind.
The next morning we woke up and looked out the port to see . . . the spanking new Queen Mary 2, which is on her first or second cruise ever. She's either the longest or the biggest or the somethingest cruise ship in the world. She's got the same color scheme as the Queen Mary in Long Beach. Now we're off to check out the monkeys and some tree that is supposedly almost one acre in size!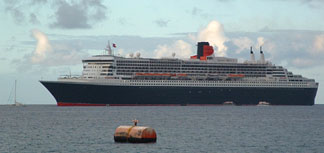 The QM2
Photos Latitude/Richard