Sydney-Hobart Race
December 29 - Hobart, Tasmania
Down under where it's summer, the Sydney-Hobart Race got underway on Boxing Day (Dec. 26) as usual. Line honors went to 98-ft Super Maxi Skandia, who finished in 2 days, 15 hours, 14 minutes and 6 seconds, after a collision in Bass Strait, possibly with a sunfish (a fish, not a dinghy). Handicap leader is First National, a Beneteau 40.7. Zaraffa, an American Reichel Pugh 65 whose crew includes Ted Hood Jr. and Volvo Ocean Race navigator Mark Rudiger of Marin County, who was onboard Assa Abloy when she took line honors in the 2001 Sydney Hobart Race, finished seventh.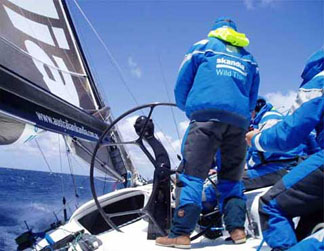 Onboard first to finish Skandia
Photo Courtesy Skandia
For all the details and lots of photos, see http://rolexsydneyhobart.com.