Photo of the Day
December 19 - St. Barth, FWI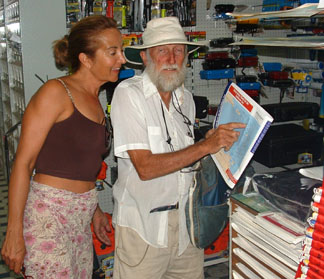 Photo Latitude/Richard
Today's Photo of the Day was taken earlier this month at the fantastic chandlery at St. Barth in the French West Indies. For some reason, we'd taken Profligate to the Caribbean without any of the 70,000 Caribbean guide books and charts we have of that area, so we were on a shopping trip. Specifically, we were looking for the Imray-Iolaire yachtie's chart for St. Martin and St. Barth. As we were fumbling through the stack of them, we spotted an iconic figure of the Caribbean standing off to the side - Don Street, skipper for zillions of years of the ancient and engineless Iolaire, author of many cruising guides, creator of most of the great Imray-Iolaire yachtie charts for the Caribbean, and famous for almost never being without a Heinie in his hand.
Despite having not seen Street since 10 years ago when we both had our boats hauled out in Venezuela, we said, in our best stage whisper, "Too bad Don Street wasn't here, for he could surely tell us which of these damn charts we were looking for!"
Street raised a sleepy eye and replied, "A-24."
While posing for a photo with Doña de Mallorca, he told us that Iolaire is for sale in London, but that he's cruising Lil' Iolaire - which looks almost like the big one. In fact, we'd seen her just that morning being smartly sailed into the harbor under jib and mizzen.
One of the great things about the Caribbean is that you can't help but bump into sailing legends.