Transat Jacques Vabre to Start this Weekend
October 31 - Le Havre, France
As in 2001, fourteen 60-ft multihulls will start at 1500 French time on Sunday, including six new boats launched in 2002. All 14 boats in this tenth running of the doublehanded race to Bahia, Brazil, are capable of winning. Amongst the 28 skippers in the multihull fleet are winners from all the classic offshore events: Vendée Globe, The Race, Route du Rhum, Trophée Jules Verne and the previous Transat Jacques Vabre. None are American.
The 2001 winner Franck Cammas has teamed up with Franck Proffit this time round, and is still a hot favorite to win given the young French skipper's domination of the multihull circuit ­ he has won four out of five events this year alone! So what is his Achilles' heel? A boat launched in 1998 which perhaps has started to show signs of aging. The oldest trimaran in this fleet, however, is the ex-Foncia built in 1997, now Banque Covefi, under the helm of the two Ravussin brothers, Steve and Yvan. The other trimaran which has been around the block is Biscuits La Trinitaine, an equally proven boat which came second in the infamous 2002 Route du Rhum. Skipper Marc Guillemot is the only person to take the same co-skipper, Yann Guichard, on the same boat as in 2001. Legendary skippers and past winners of the Transat Jacques Vabre, Loïck Peyron and Laurent Bourgnon, are acting as powerful co-skippers this time for Jean-Luc Nélias (Belgacom) and Philippe Monnet (Sopra Group) respectively.
On board Géant, Michel Desjoyeaux is paired with seven-time round the world sailor Hervé Jan. Another similar top choice co-skipper is Jacques Vincent, who has been around the world six times no less, and for this race teams up with Thomas Coville (Sodebo). Mixed doubles in the fleet are Alain Gautier/Ellen MacArthur (Foncia) and Karine Fauconnier/Damian Foxall (Sergio Tacchini).
The Class 2 Open 50 multihull division will be a match race between anne-caseneuve.com and the British duo Andy Newman and Ross Hobson on Mollymawk, as today the withdrawal of Victorinox was announced. The one advantage for Frenchwoman Anne Caseneuve and co-skipper Christophe Houdet is that their Van Peteghem/Lauriot-Prévost 2001 design took the 24-hour distance record for an Open 50 (48 miles).
Although winds of 25-35 knots, as well as rain, are predicted for Sunday there is an 80% chance that the multihull start will go off as scheduled.
More benign conditions are expected for tomorrow afternoon's monohull start. With a total of 17 boats on the line, five more than the last race in 2001, the Open 60 IMOCA Class represents the biggest fleet out of the four in the TJV and boasts the most international field of skippers from eight different countries. The 2001 winner, World Champion French skipper Roland Jourdain is defending his title on board the proven Lombard design Sill, which is now owned by his co-skipper, 29-year-old Alex Thomson.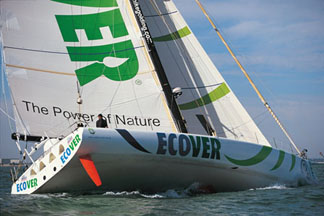 Ecover, Mike Golding's Open 60
Photo Richard Langdon, Courtesy www.pixsail.com
In this class, much attention is also being paid to the two brand new monohulls on their first offshore race. Virbac, the first Farr-designed Open 60, is in the hands of Jean-Pierre Dick. Next to her in the basin is the new Ecover, the third Owen-Clarke design after Pindar and Team Cowes. For British skippers Mike Golding and Brian Thompson, theirs will be a rude baptism when they hit 40-knot winds on the nose on the first night sailing down the English Channel. Golding has occupied the other two podium positions in previous races and so the only one left for him to fill is the top spot. Another skipper on for raising the bar on his third place performance from 2001 is Aussie Nick Moloney, racing with Figaro skipper Sam Davies on Team Cowes. A boat which is likely to threaten these skippers is Pindar with past TJV winner Emma Richards and the transatlantic record breaking Kiwi co-skipper Mike Sanderson on board.
In the Open 50 class, 2001's winner, Aussie Paul Larsen, could well put in a repeat performance. With British skipper Conrad Humphreys, they are racing on board a winning boat. Designed in 1996 by Group Finot, Hellomoto (ex-Ashfield Healthcare/Cray Valley) won the Route du Rhum 2002 with Nick Moloney at the helm, and Around Alone 98-99 with Jean-Pierre Mouligné. Their main competition comes from Le Défi Vendéen skippered by Jean-François Durand and Stéphane Chemin.
For the complete report, more photos and to follow the starts this weekend, see www.jacques-vabre.com.