How Come IV Was so Much Faster than III?
October 13 - Plymouth, UK
How come Bob Miller's 140-ft schooner Mari-Cha IV was able to smash the transatlantic record last week, beating the previous record held by Bernard Stamm, and the record before that held by the 144-ft Mari-Cha III? The new boat did the crossing in just 6 days and 17 hours, while the longer old boat took 8 days and 23 hours.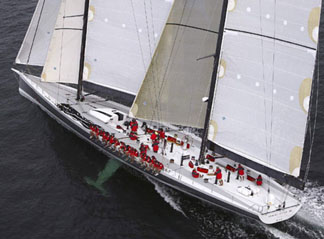 Mari-Cha IV
Photo Thierry Martinez
Weight was a major difference. MC III displaced a whopping 109 tons, while the new boat, built of carbon and with all weight carefully controlled, displaced less than half that at 50 tons. Imagine, for example, how much faster your boat - be it a Cal 29, Islander 36, or whatever - would be off the wind is she weighed less than half as much.
By the way, there was just one American among the 24-person crew: Mike Howard of Southern California. Miller himself was born in Boston and talks like an American, but considers himself a resident of Hong Kong. There have been rumors that Miller would be interested in trying to sail his new boat around the world in less than 80 days. But he's squashed those rumors, saying that seven or eight days on a boat is enough for him. He's looking toward Antigua Sailing Week and - won't this be great? - next July's West Marine Pacific Cup.