'Lectronic Bulletin: Hurricane Marty
September 23 - Sea of Cortez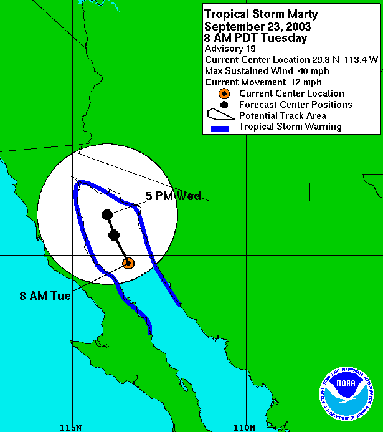 Marty, the hurricane which has caused the most destruction ever to the cruising fleet in Mexico, is reportedly now down to Tropical Storm force - see graphic above - with sustained winds of only 40 knots. She's still a threat to some boats in the northern Sea, but not as much. Regretably, in her track - see graphic below - she leaves a tremendous trail of destruction, particularly in some parts of La Paz and in Puerto Escondido.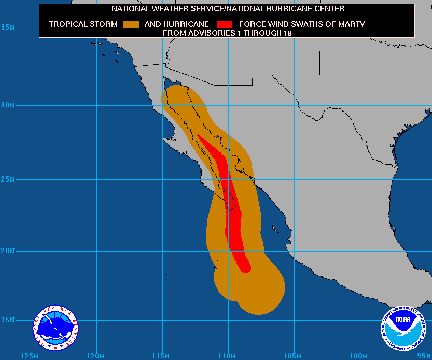 Tim Schaaf, who managed to survive aboard his Hunter Casual Water in Puerto Escondido, offers this summary gleaned from personal observation and net reports:
"La Paz: More than 80 boats sunk or damaged so badly as to be economically unfeasible to repair. Three boats - Moon Me, Wanderlust V, and a tri with no name - fell over in the boatyard at Astilleros, none seriously damaged. The tri was dismasted when Wanderlust fell. Marina de La Paz and Abaroa Marina suffered terrible damage. [See photos below by Juan of Wanderin Star.] There was no major damage to boats at Marina Palmira. [Byron Corley of the Rawson 30 Sabrina says Eduardo of Bercovich Marina, where his boat is on the hard, reports there was no damage to boats in that yard, and minor damage to boats on the moorings. They noted it rained tremendously, however.]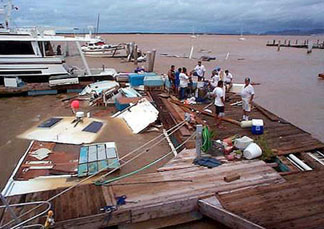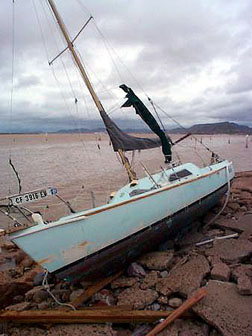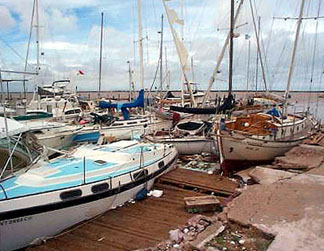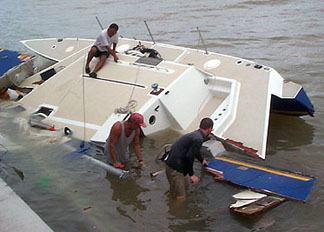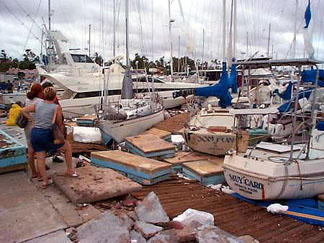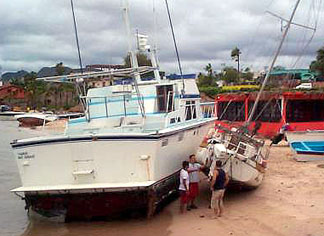 Destruction in La Paz
Photos: Tom Zyber/bajainsider.com
[Other reports indicate two people - not cruisers - were killed in La Paz. See the new report on La Paz at the very bottom of this page.]
"Puerto Escondido: Two or perhaps three boats floated out of the harbor. Zinfandel is still missing, but Mahayana has been sighted on a beach on Isla Danzante. The following are sunk, on the rocks, or otherwise beached: Sambita, Distant Vision, Vagabond Lover, Rivaldi II, High Jinks, Toy Boat, Ericazona, Ollie, Debutante, La Sirena, Wildflower, Cleo, and Discover Baja, the latter being a Fonatur boat. Of these, Rivaldi II and Vagabond Lover were smashed into flinders on the seawall and are no more. High Jinks smashed into the sea wall, sank, and is probably also gone for good. Several - including Ollie, Toy Boat, Debutante, La Sirena, and Wildflower - look to have made fairly soft landings. The condition of the others is unknown, and so is their outlook. One sailboat actually made it to the top of the seawall! Surf was crashing over the north window of the main harbor, just before the eye hit. Lots of stuff is floating around. Amazingly, nobody was killed or even seriously injured. I don't have a max wind, but a boat with a known "sluggish" wind gauge saw 72 knots, so I am going to guess that we definitely saw over 80, and maybe, in the highest gusts, even 90.
"Bahia Concepcion: Three boats were in Santa Barbara, and all are fine. One local sailboat, name unknown, went on the beach.
"Santa Rosalia: The marina came apart - but is being held together by the seven boats that are moored to it! They are all okay, and one further sailboat washed on the beach in the harbor, but looks okay. Winds have dropped to 30 knots. All people are fine. Seven of the boats had their people aboard for the storm.
"San Carlos: Reports are still sketchy. The storm took a left turn and did not hit them directly as was predicted, but they are still just creeping out from under the covers. Two boats appear to have fallen in Marina Seca. One boat is reported adrift in Marina Real, where there was some dock damage. No word on Marina San Carlos. A number of boats came loose in the harbor. That list includes, but is by no means limited to Toad and Viva. [More details below.]
"Puerto Don Juan: They had more than 50 knots last night for quite awhile, but all boats there are okay.
"Puerto Refugio: The storm, having turned a bit left, carved its way up the center of the Sea. It hit Refugio overnight and is still going on. As we speak, Mirador is beached and apparently breaking up - this by the final radio transmissions from its owner - and Spirit Healer is way up on the rocks, holed. The other three boats that are there, including Rula, are still struggling, motoring into the wind to hold position. The wind is currently reported to be about 50 knots, with major waves and surge. I believe it, as they are within 30 miles of the storm center.
"Bahia Willard: Three or four boats scooted up there. They currently have 30 knots plus, and are awaiting Marty and their fate.
"Marty is slowing down and weakening, and is predicted to continue up the gulf. It should just hang around and dissipate tomorrow, possibly without ever finishing up ashore. The Sea of Cortez is a really sad place right now. But, sometimes good comes of bad, and I bet you will see a really strong sense of community and many new friendships forged as the fleet tries to put itself back afloat and back together. That's all for now. Got to go help."
In addition, Latitude 38 spoke to marinas in the San Carlos area this morning for their reports. Dario Sezzi of Marina Real: "People here say the strongest wind ever." They have 40 boats in dry storage, but only two of them went over. In the mostly small boat 300-berth marina, a few boats that got loose were damaged. Of the houses along the beach where the Club Med used to be, many were destroyed by 12-ft surf.
Heidi Grossman at Marina San Carlos and Marina Seca Dry Storage: "We got hit about 9:30 p.m. The wind topped out at 68 knots, but was probably 55 knots steady with 12-ft seas. It was worse than Ernesto, but did less damage to our marinas. Of the 600 boats in dry storage at Marina Seca, special hurricane stands - a result of the domino effect on boats during Ernesto, held well, with only three boats slipping. One boat was scratched up on O Dock. A 'pirate ship' sailed herself out of the marina, still attached to a part of a dock. Two boats on our moorings dragged ashore. In addition, four other boats - one cat, one sail, and two motoryachts - dragged from their private moorings. Also a shrimper and an 80-ft motoryacht went a on sandbar, but should be all right when pulled off."
With Marty almost blown out, and well past many damaged areas, the misery of clean-up, salvage, and filing insurance claims begins. We've already heard many owners express concerns about a line in many policies, where it says that if sails were left on the boat while the boat was "stored or layed up", the policy is valid. So what exactly is meant by "stored or layed up"?
Historically, the biggest danger to boats in any hurricane are other boats, particularly unattended ones, particularly ones left unattended with roller furling jibs in place. The tremendous destruction to boats caused by Hurricane Marty may result in some legislation to curb these problems.
To all you folks with damaged or destroyed boats, and/or with no immediate place to repair them, our heart goes out to you in what are certainly most discouraging times. Bless all of you.
P.S. The print issue goes to press Wednesday night. We are desparate for high resolution photos that can reach us by noon on Wednesday. Please help if you can. In addition, we would appreciate any first hand accounts, but they must be limited to three short paragraphs. Please include your boat name, boat type, full name, and hailing port.
For many more photos of damage by Marty in La Paz, see Tom's photos at www.bajainsider.com.
More on La Paz. We just received the following report from surveyor Mike Wilson of Tortue, who was at Marina de La Paz:
"Just to let you know that we are still alive after Hurricane Marty ploughed directly into us. We were tied up in the Marina de La Paz, which is now 60% smaller than before. Marina Abaroa is about 70% smaller. Everything - docks and pilings - broke up at 0730 resulting in boats stacked on top of each other this morning with the wind shift when the eye passed over blowing 100+ knots.
"More than 80 boats are seriously damaged. Many sank, including Novia. We are now right up next to the concrete bulkhead on the north side of the marina with a dock between us and the rocks and many broken styrofoam floats. Novia is sunk off our stern, the 60-ft powerboat next to us is sinking, and we have a sunken 50-ft trimaran off the port quarter, and another four boats spaced around us tightly.
So far, Tortue hasn't leaked a drop of water. The transom and port quarter took a few hits, but the boats that hit us were fiberglass, and they exploded whilst we being aluminum just dented a bit. Most should be cosmetic fixes. The dinghy acted as a $3,000 fender, and the Yamaha 6 got ripped off the transom. I got the windvane off in time, and three out of six solar panels. All things considered we came out okay - about $10,000 in damage. We have no insurance, but even if we had been insured, the dinghy and the deductable would be $5,000. So having Tortue for 10 years, it works out at $500 per year versus $3,000 a year for the insurance . . . it makes me feel better to rationalize it that way.
"Tomorrow we start the clean up. I already have seven insurance adjustments to do, and a whole lot more on the way. It looks like I will be here for a few months. The sheer speed and force of Marty was awesome. Thank God there were no casualties. We ran down the dock with our passports and grab bag, huddled behind the marina building, and then watched whilst our home was getting destroyed. Within two minutes the storm surge floated the entire dock away."