Photos of the Day: Big Boat Series
September 12 - San Francisco
"We thought the St. Francis YC was in Northern California," said a couple of competitors in the St. Francis Big Boat Series, which started yesterday and runs through Sunday. "But given the warm weather, 8 to 15 knots of breeze, and flat water, it seemed more like Southern California." Here's the official report, with photos courtesy of Chris Ray:
The St. Francis Yacht Club's Big Boat Series presented by Rolex kicked off a seven-race series on San Francisco Bay today in 8 to 15-knot breeze and slightly cloudy skies. Over 1,000 competitors on 115 boats sailed two races in each of three Americap II classes and seven of the eight one-design classes: Farr 40, Santa Cruz 52, Beneteau 40.7, J/105, J/120, 1D35, and Express 37. Racing continues through Sunday when five perpetual trophies and Rolex timepieces will be awarded. In the America's Cup class one race was held, with the second and final race scheduled for tomorrow.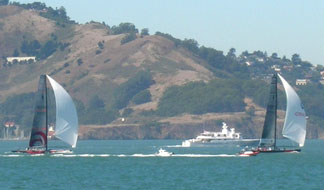 Onshore spectators were given a sneak peek at what America's Cup racing would look like on the Bay with Oracle BMW Racing and Alinghi Team fleet-racing their ACC boats. However, they followed the Big Boat Series presented by Rolex racecourse of fleet racing along the Cityfront, not match racing, the format used in the America's Cup. Oracle BMW Racing beat the Swiss America's Cup winner Alinghi Team, led by Jochen Schümann, by a healthy 30-second margin. "The Big Boat Series is a great prelude for the Moët Cup," said Chris Dickson, skipper of Oracle BMW Racing.
As in all of the classes the tide played a crucial role, and in the highly competitive Farr 40 class the tacticians had their work cut out for them. The tide was the key to John Kilroy's Samba Pa Ti taking the overall class lead on the 15-boat fleet. "In the second race, the front half of the fleet slowed down at the first windward mark and the back half caught up and passed them," said Kilroy of Los Angeles, who relied on Olympic Bronze Medalist Jeff Madrigali for tactical assistance. "With the tide on its way out and the wind dying, it gave us a nice boost to get up front and take second." They are tied three ways on nine points each with Steve and Fred
How's Warpath and Peter Stoneberg's Shadow.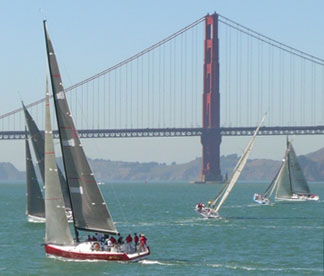 The largest class competing here is the J/105 class with 34 boats. Tom Coates' Masquerade took two first place finishes and is a class favorite to win this year. Coates has another J/105 in San Francisco and keeps Masquerade on the East Coast, but decided to bring it here to San Francisco to test it against the fleet in the recent North American Championship. "The key to our winning both races was good tactics," said Coates. "We have Thomas Eisler and Mark Chandler who both trim the sails and collaborate on tactics." As in any large one design fleet the key to a successful race is a good start and Coates described the advantage it gave him. "Both races we had clean starts in good air. In the first race, we took off and basically led the fleet around the racecourse."
The second race was not as simple. "We were leading at the start around the first mark," said Coates. "Nantucket Sleighride caught us downwind and inched away from us. We luckily were given an opportunity to pass them on the next leg, but it was a photo finish!"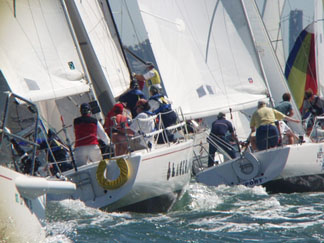 In the 11-boat 1D-35 class, Victory, owned by Buddy Cribb of North Palm Beach, FL, is in first place, having scored 3,2 to tie on points with Kill-A-Watt, owned by David Rillie of Cardiff, near San Diego.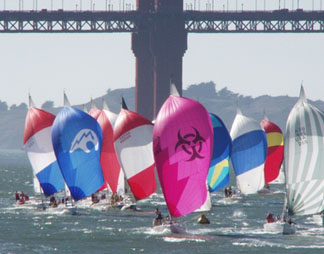 Photos Courtesy Chris Ray
The Big Boat Series presented by Rolex joins other prestigious Rolex-sponsored events in 2003 including the Giraglia Rolex Cup, Rolex Farr 40 World Championship, Rolex Fastnet Race, Maxi Rolex Cup, the Rolex International Women's Keelboat Championship, Rolex Middle Sea Race, the Rolex Miami OCR and the Rolex Sydney to Hobart Race.
Founded in 1927, St. Francis Yacht Club, within view of the Golden Gate Bridge, is a year-round host of over 40 regattas on San Francisco Bay. The club is renowned for its expertise in running world and national championships, including the 2003 Melges 24 Worlds, J/105 and Star North American Championships.
For daily reports, photos and results from the Big Boat Series presented by Rolex, contact the St. Francis YC Race Office at (415) 563-6363 or see www.stfyc.org.
Preliminary Results: Day 1 (two races), top three per class
Express 37 (9 boats)
1. Expeditious, Bartz Schneider, Crystal Bay, CA, 1-2, 3 points
2. Eclipse, Mark Dowdy, San Francisco, 3-1, 4
3. Bullet, Brendan Busch, La Honda, 2-3, 5
Farr 40 (15 boats)
1. Samba Pa Ti, John Kilroy, Los Angeles, 7-2, 9 points
2. Warpath, Steve & Fred Howe, San Diego, 6-3, 9
3. Shadow, Peter Stoneberg, Orinda, 5-4, 9
1D-35 (11 boats)
1. Victory, Buddy Cribb, North Palm Beach, FL, 3-2, 5 points
2. Kill-A-Watt, David Rillie, Cardiff, 2-3, 5
3. Windquest, Dick & Doug DeVos, South Haven, MI, 1-5, 6
Beneteau 40.7 (6 boats)
1. White Fang, Mark Howe, Richmond, 1-2, 3
2. Blue Agave, Thomas Sponholtz, Sausalito, 3-1, 4
3. Shaddy Daddy, Joel Davis, Alameda, 4-3, 7
J/105 (35 boats)
1. Masquerade, Tom Coates, San Francisco, 1-1, 2 points
2. Aquavit, Tim Russell, Novato, 3-2, 5
3. Orion, Gary Kneeland, Dillon Beach, 8-6, 14
J/120 (8 boats)
1. Desdemona, John Wimer, Half Moon Bay, 1-1, 2 points
2. Oui B 5, John Sylvia, 2-2, 4
3. Chance, Barry Lewis, Atherton, 3-3, 6
Santa Cruz 52 (5 boats)
1. Natazak, Steve Williams, La Selva Beach, 2-1, 3 points
2. Winnetou, Martin Brauns, Los Altos Hills, 1-3, 4
3. Elyxir, Skip Ely, La Selva Beach, 3-2, 5
Americap II Class A (9 boats)
1. Rosebud, Roger Sturgeon, Santa Cruz, 1-1, 2 points
2. Flash, Mark Jones, 2-3, 5
3. Alta Vita, Bill Turpin, San Francisco, 4-2, 6
Americap II Class B (8 boats)
1. Scorpio, John Siegel, San Francisco, 2-1, 3 points
2. Cita, Cita Litt, Newport Beach, 3-2, 5
3. Zamazaan, Charles Weghorn, San Francisco, 1-5, 6
Americap II Class C (6 boats)
1. White Dove, Mike Garl, Sequoia, 1-1, 2 points
2. Just in Time, J. Feller, San Francisco, 2-2, 4
3. Oni, Peter Krueger, 3-4, 7
Preliminary Results: Day 1 of 2 (one race)
ACC (2 boats)
1. Oracle BMW Racing, 1, 1 point
2. Alinghi, 2, 2 points