Photos of the Day: 18-ft Skiffs
September 8 - San Francisco Bay
Thursday, Friday and Saturday saw a fleet of ten 18-ft skiffs (aka Aussie 18s) take flight on the Bay. After nine races, RMW Marine emerged victorious, followed by West Marine and Yandoo.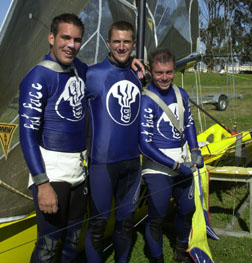 The winning team, Robert Greenhalgh, Dan Johnson and Sam Gardner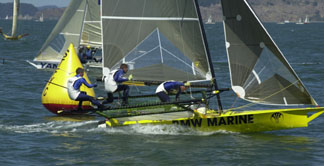 RMW Marine
On Friday night the skiffs competed with sailboarders and kite boarders in the Ronstan Bridge to Bridge race. Micah Buzianis, a sailboarder, had the fastest time, an amazing 16 mins. 29 secs. - shaving a whole 1.35 seconds off 2002's record.
We'll have more in the October issue of Latitude 38, but in the meantime, see www.stfyc.com for complete results.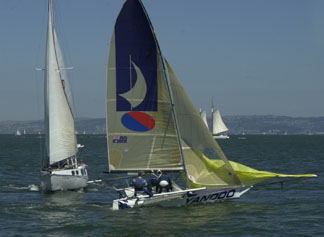 Third place boat Yandoo crosses a cruiser, with Alma in the background.
Photos Latitude/Andy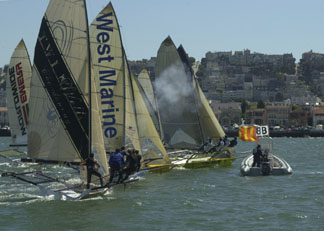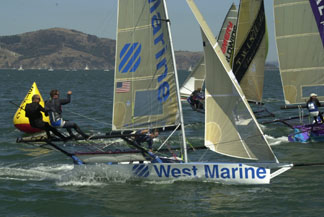 Local team Howard Hamlin, Mike Martin and Andy Zinn on West Marine, the second place finisher.