Photos of the Day:
Sailing in Southern California Is Sweet
August 13 - Santa Catalina Island
It's not uncommon for Northern California sailors to pooh-pooh sailing in Southern California. The truth of the matter is that given the right time of year - mid-July to mid-October - and given a boat that can sail well in under 15 knots of wind - it's a great place to sail.
Last weekend, for example, the Wanderer, Doña de Mallorca, and eight others enjoyed three days of shared expenses sailing between Long Beach, Catalina, and Newport Beach. The sailing was lovely. We left from the Californian's berth at Rainbow Marina in Long Beach, headed high across the channel at 9-10 knots in order to set up a screecher reach to Avalon. It worked - just about everyone was hitting the low teens with a top speed of 14.5 knots.
After an afternoon and early evening of fun at Avalon, and anchoring for the night halfway to White's Landing, the next morning we slowly motored up the coast to Two Harbors. After a morning of hiking, running, and swimming, a light breeze came up at 2 p.m., and for most of the next three hours, we enjoyed more screecher reaching at about 10 knots. As was the case the day before, it was only blowing 10 to 14 knots, so the seas were flat, the air was warm, and it was perfect for taking it easy on the forward tramp. After a barbecue at the Isthmus on Saturday night, we had an asymmetrical spinnaker run toward Newport Beach in moderate winds that finally died out - as they always seemed to do - just north of the Newport Pier. Still, we had enjoyed about 75 miles of absolutely lovely sailing over a three-day period, with no foul weather gear in sight, and not a drop of water on the deck.
There's no knocking Northern California sailing, of course, but for boats that can move in light to moderate winds, Southern California has fantastic sailing, too. Vive la différence!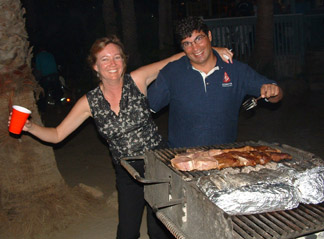 Holly and Peter at the grill at Two Harbors on Saturday night. Peter and Arnie, another of the crew, were kings of the Q.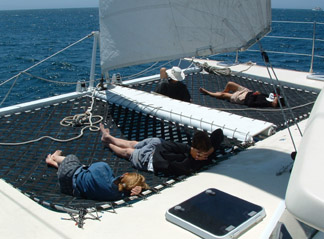 Although Profligate is sailing along at 12 knots, the crew takes it all in stride.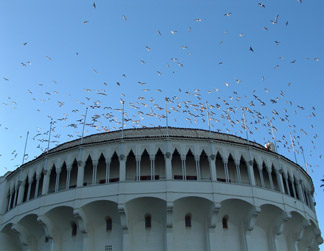 Birds seem to love Avalon's casino just as much as mariners do.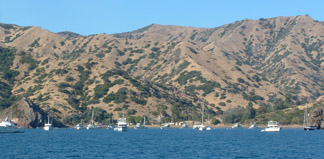 White's Landing, a little less than halfway between Avalon and Two Harbors, on Saturday morning. It was crowded but lovely.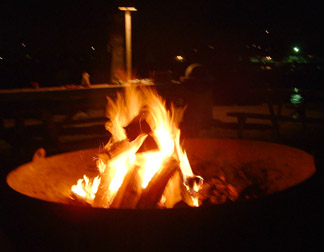 Bonfires are big and bright at the water's edge at Two Harbors.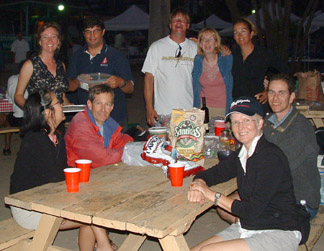 Our barbecue crew. Standing, from left: Holly, Peter, Arnie, Joanne, and Doña de Mallorca. Sitting, from left: Jacqueline, Ron, Leslie, and Dave.
Photos Latitude/Richard