Historic Schooners of Key West
August 11 - Key West, FL
A town made prosperous in the 1800s by shipwrecks, Key West has no shortage of sailing history. To enjoy a taste of it, many visitors sail aboard one of a selection of historic charter boats. Among these, two schooners, Western Union and the America can be seen every evening taking passengers out to view the sunset.
While visiting the Keys, we sailed aboard the 130-ft Western Union, a working schooner launched in Key West in 1939 (yes, 1939 - that's not a typo). As her name implies, her job was to lay cable for the telegraph company of the same name all along the east coast as far north as Nova Scotia, throughout the Caribbean, and as far south as Venezuela. She was not taken out of service until 1974, when fiber optics made the heavy cable obsolete.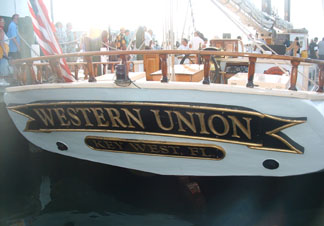 Because of all the shallow reefs and flats over which she must sail, Western Union has a flat bottom and no keel, just a 14" keelson from bow to stern.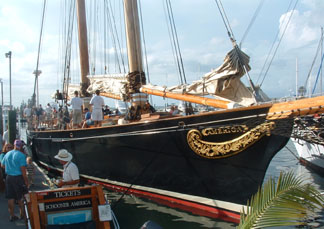 The 139-ft Schooner America, built in 1995, is a replica of THAT America (you may have heard of her Cup). However, unlike the original, this model sports a modified fin keel, carbon spars with wood veneer, and yellowish Kevlar sails (which look more like natural cotton). Like her namesake, she is very fast.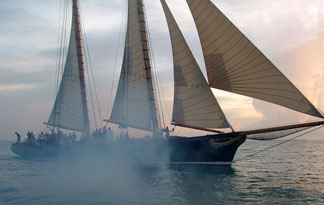 Looking at this photo, one can almost smell the gunpowder from the cannon fire exchanged between Western Union and America.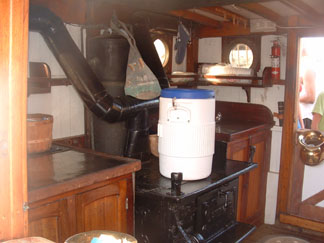 One might assume this is the original galley onboard Western Union, but this little cabin, just aft of the foremast on deck, was originally a work shed which housed a large winch. The cable-laying crews cooked on deck.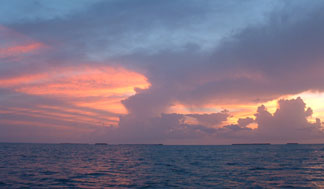 Summer sunsets in the Keys are spectacular, thanks to the thunderclouds that build up each evening.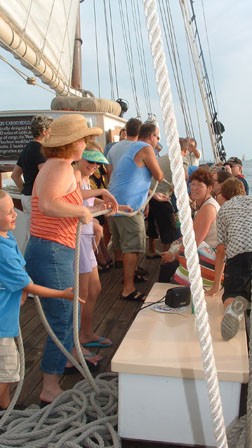 Several passengers were needed to help hoist the sails, a gaff main and foresail and an inner and outer jib.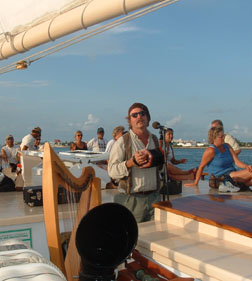 Steve plays 'Blow the Man Down' on the concertina. He serenaded the passengers with traditional music and served as MC.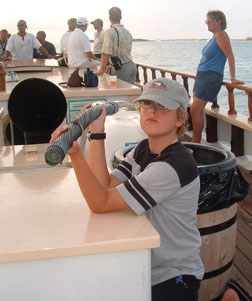 The crew of Western Union strung 20 miles of this cable at a time, then went back to port for more.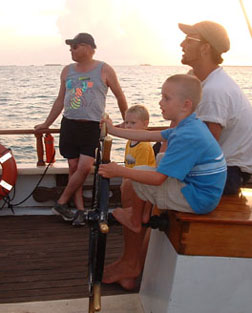 Some passengers got a turn at the wheel.
Photos Latitude/Chris
To learn more about Western Union, see www.schoonerwesternunion.com. For more on America, see www.schooneramerica.com. Both are owned by Historic Tours of America. America sometimes spends part of the summer season in Newport, RI.