Aldo Alessio Regatta
August 6 - San Francisco Bay

The StFYC hosted the Aldo Alessio Regatta on Friday in foggy conditions on the ocean. Rob Weed, sailing overall winner Wired, a Farr 40, nabbed the Alessio Trophy for top corrected time. A big collision made for an eventful start, as Mayhem t-boned Non Sequitur. The latter's co-owner Dick Watts injured his leg in the crash; the boat is at KKMI and will hopefully be back in the water in time for the NOOD Regatta in September. Mayhem gave the Non Sequitur gang their boat for rest of weekend.
Saturday's events featured two Bay races; Sunday's a longer Bay tour. The Aldo Alessio is the first of five events in the SF Bay Series. Scroll down for top finishers. Full results are available at www.stfyc.com and we'll have more in the September issue of Latitude 38.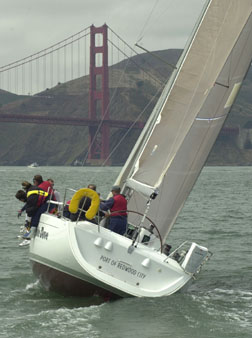 White Dove, a Beneteau 40.7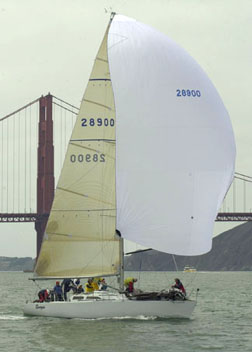 Scorpio, Wylie 42, won Americap with a 2,2,1,1 record.
Photos Latitude/Rob
Here's a sampling of the results:
FARR 40 - 1) Samba Pa Ti, John Kilroy/Paul Cayard; 2) Shadow, Peter Stoneberg/Ed Baird; 3) Wired, Rob Weed/Pete McCormick.
J/120 - 1) Oui B 5, John Sylvia; 2) Mr. Magoo, Steve Madeira; 3) Chance, Barry Lewis.
J/105 - 1) Good Timin', Wilson/Perkins; 2) Wet Paint, Don Priestly; 3) Zuni Bear, Bergmann/Bennett, 27.
AMERICAP - 1) Scorpio, Wylie 42, John Siegel; 2) Sensation, 1D-35, Fanger/Yovko; 3) Swiftsure II, Schumacher 54, Sy Kleinman.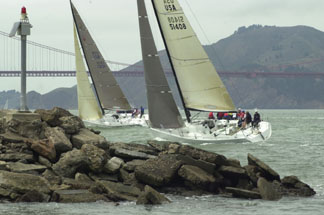 Dueling Farr 40s: Revo chased Samba up the Cityfront.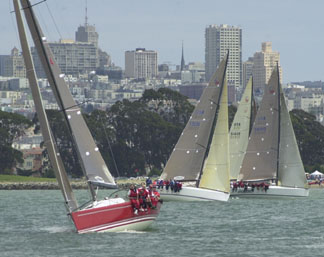 Seeing red - Rob Weed's reactivated Wired leads the pack on Saturday.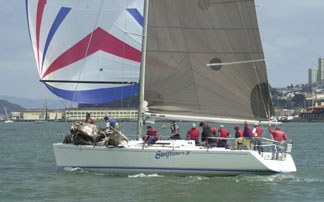 Swiftsure II came out for the weekend only.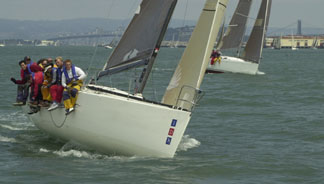 1D-35 Sensation went 1,1,3,4 to take second in Americap.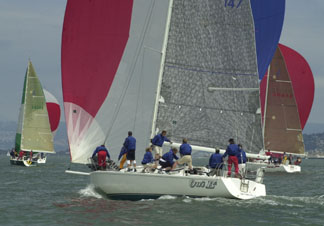 Men in blue - Oui B 5 won the J/120s by a point over Mr. Magoo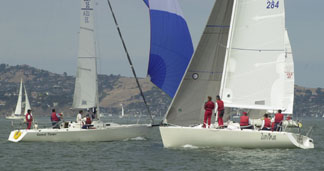 Good Timin' (left) crushed the J/105 fleet. Zuni Bear (right) gives them a standing ovation.