Photos of the Day
August 1 - Santa Barbara
The Wanderer and Doña de Mallorca are in Santa Barbara, getting ready to do Friday's 86-mile Santa Barbara to King Harbor (Redondo Beach) Race. De Mallorca reports that on the way south along the normally windy California coast, there was never more than eight knots of wind, and the seas were flat -- perfect northbound weather. As she and the two delivery crew rounded Point Conception, they were chased down by the Coast Guard in an orange inflatable, which had been hiding pirate-like at the Cojo Anchorage just around Government Point. Since Profligate had passed an inspection just a year ago, the woman officer in charge conducted a quick spot check, noting a minor deficiency in flares. (We shouldn't have set off so many to celebrate the start of Banderas Bay Regatta.) After the inspection was done and upon learning that Profligate is Latitude's boat, the officer noted that she was a "big fan". That makes us proud.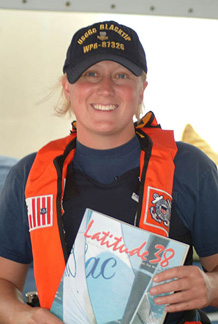 Heidi of the US Coast Guard
Santa Barbara YC officials report 120 sign-ups for the King Harbor Race, and hope to get a few more late entries to surpass last year's total of 128 boats. The wild card is how many of the boats that completed the TransPac in mid-July will be able to make it back in time. Incidentally, last year's overall winner was Northern Californian Paul Martson with an Antrim 27. Although we don't know for sure, we wouldn't be surprised if he showed up to defend his title.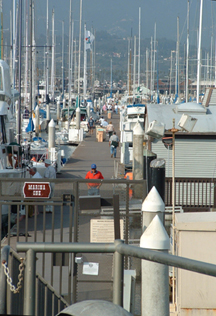 The Santa Barbara Muni Harbor has over 1,000 slips, but there is so much demand for them that they've stopped keeping a waiting list. Some people have been on the list for 25 years. Maybe it has something to do with nice toilet facilities!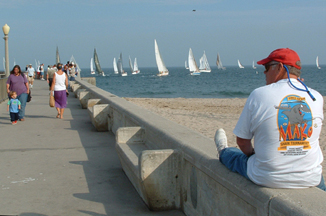 An active and working harbor, Santa Barbara is very popular with fishermen, sailors, old geezers on the breakwater, young lovers, joggers, tourists, surfers and just about everyone else. These folks know nothing about racing, but enjoy the spectacle - except when the gun goes off and shocks the daylights out of them!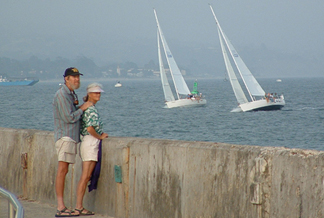 The breakwater is spectator-friendly for watching the races.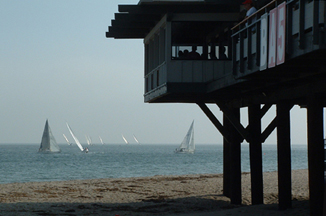 Santa Barbara Yacht Club is right on the beach and the Wet Wednesday fleet races right in front of the club.
Wet Wednesday Beer Can Races are a big deal for the Santa Barbara YC, and attract a large and excellent fleet. Check out the photos of the aggressive starts. Some of the King Harbor boats use the Wednesday night race as a King Harbor tune-up.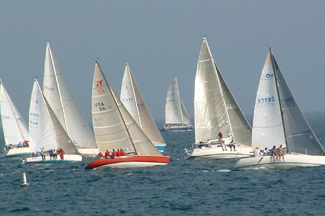 The middle-sized boats battle for room at the start.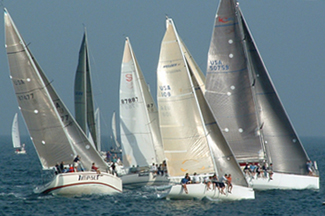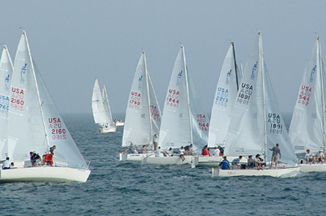 It's even more competitive with the J/24s and other small boats.
One of them was Greg Dorland of Lake Tahoe, seen here with his lady friend Debbie, who for 23 years has run the well-known Christie Hill Restaurant in Tahoe.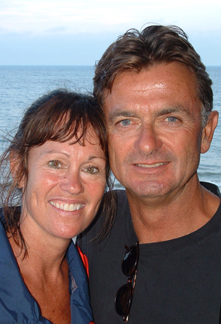 Dorland sailed his Melges 32, which has tremendous sail area for her weight, to second in division. "We might have won if you'd come along," he joked. "We got badly overpowered at the weather mark."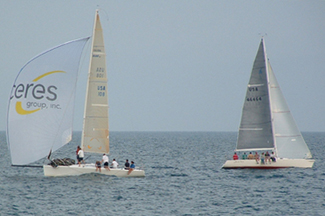 Greg Dorland's Melges 32 with her chute up.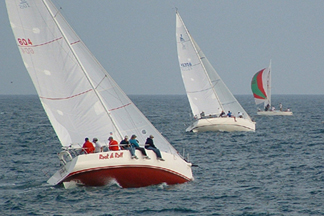 Finish line fun!
Photos Latitude/Richard
Anyway, it's both King Harbor and Fiesta in Santa Barbara, so it's party time everywhere. Wish you were here.