More Great IACC Racing
July 28 - San Francisco Bay

They were racing IACC boats on the Bay again this weekend, this time with a total of six boats, thanks to the additon of USA-49.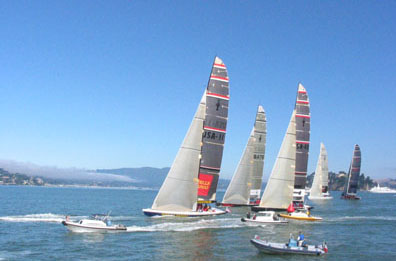 Photo Courtesy Brandon Mercer
Michelle Slade filed this report:
Larry Ellison's Team Oracle BMW Racing took the Il Moro Trophy 2003, while Team Wells Fargo won a tiebreaker with NZL-20 for first place in Vintage Division. Oracle BMW won the Il Moro in a clean sweep as they did the Sausalito Cup, but notwithstanding a good fight from USA-49, Paul Cayard's old boat from the 2000 America's Cup. Helmed by Peter Stoneberg with a rock star crew including Dawn Riley, Hamish Pepper and Jeff Madrigali, USA-49 put on a great show on Sunday, leading USA-76, helmed by Larry Ellison, for a good part of race one.

In the spirit of the regatta, Oracle BMW's Chris Dickson said, "Peter wasn't meant to be rounding marks in front of us ­ they weren't supposed to do that well!" In a toast to the fleet, Dickson added, "We're doing our best to support the profile of these events in San Francisco and will make sure we have more yachts racing at the next event." The two Grand Prix Division yachts shared close racing throughout the weekend and provided San Francisco spectators with an awesome display of world class America's Cup Class racing.

In the Vintage Division, Team Wells Fargo helmed by John Sweeney took first place after winning race two on Sunday in a tiebreaker against NZL-20 helmed by Karie Thomson and David Thomson. Lead changes and a number of spinnaker blowouts made for some exciting moments for the many guests on board the hospitality boats. Newcomers to the fleet, Dick Watts and Tom Thayer, did a great job helming Il Moro di Venezia in a transition from their Farr 40 experience. NZL-20 and USA-11 won three races each, with USA-11 taking the last race to win the Vintage Division.

The essence of The Challenges Series events shone through yet again with a great regatta, sailing in near perfect conditions in beautiful surroundings, with a significant focus on fun. The full complement of six races was sailed in breezes that averaged 15-18 knots throughout the weekend. At the prize-giving, Herb Myer of Wells Fargo, the event's primary sponsor, put forth a challenge to Larry Ellison for a contribution of $50,000 to a favorite charity if Team Wells Fargo beats Oracle BMW in the next Challenge Series event, The Golden Gate Cup on September 5-8.