Photo of the Day
July 23 - Caribbean Sea
Today's Photo of the Day is of the Ocean 71 Second Life - veteran of the first Whitbread Around the World Race - as seen during the second leg of the 2001 Baja Ha-Ha.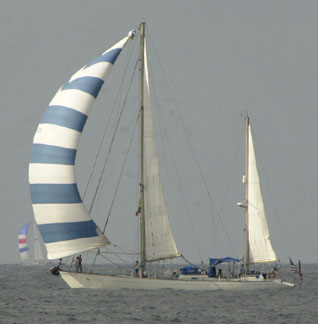 Photo Latitude/Richard
Owner Tony Clarke of Sonoma - who did more than 500 group charters with her on San Francisco Bay, and who sailed her to the Line Islands, Tahiti, Bermuda, the East Coast, Bermuda, and the Caribbean over a period of 17 years - just informed us that she sank on May 3 while on her way from Grenada to Trinidad. "I suspect hull failure in the way of the mast step."
Clarke and one crewman heard the bilge alarm go off about 12:30 a.m. "It was blowing about 20 knots with eight foot seas, nothing bad. There was no problem with the sea chest, the sink drain, and the depthsounder thru-hull, and initially there was no water forward or aft. But there was so much water near the mast that the floorboards wouldn't come up. By 2:30 p.m., the bilge had flooded so much the engine quit. We put out a distress call and cut the lifelines in order to get the 450-lb liferaft over the side. We were picked up a short time later by a boat from a British ship. Second Life is now at the bottom in 500 feet of water. She can't be recovered, but hopefully it's shallow enough so cameras can be lowered to find out what happened."