Silver Eagle Race
July 21 - San Francisco Bay
Last weekend was Island YC's Silver Eagle Long Distance in the Bay race, which took the fleet from the Cityfront, to the San Francisco Airport, almost to Vallejo, and back. The weather was great, with terrific wind to start, and the usual holes under the Bay Bridge and down by Candlestick. First to finish the 67-mile course was Brendan Busch with the Inter 20 Catamaran Team Lexis Nexis, who crossed the finish line at 6:21 p.m. Busch is a vet of the Worrell 1000, and says that, "This race was as tough as the 1000."
Corrected time honors went to Pat Benedict's J/105 Advantage 3.
A disappointing four boats sailed in the 41-mile Eaglet, for slower boats. It was won by the J/24 Phantom. More boats should put this race on their schedule for next year.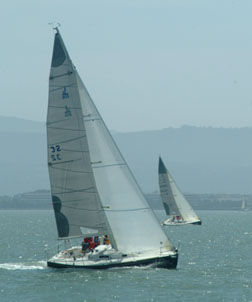 Jitterbug leads another J/105 up the San Francisco shore.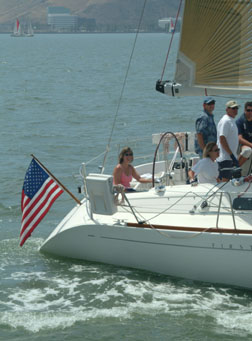 Finally escaping the wind hole near Candlestick.
Photos Latitude/Richard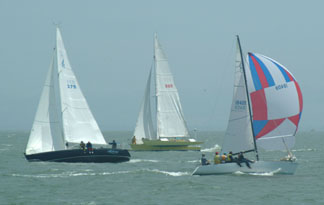 At the South Bay leeward mark, boats were reaching in both directions.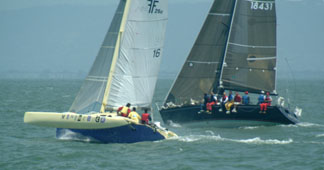 The F-25 Mindbender rolls an Express 37.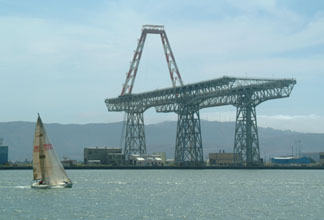 The Olson 30 Family Hour passes in front of one of the City's most curious structures.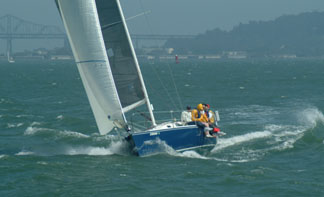 J/105 Wianno reaches behind Angel Island, where the wind was blowing in the high teens.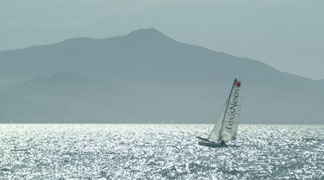 Team Lexis Nexis heads back to the finish line, with the sun still high above Mt. Tam.