Graphic of the Day: Sausalito Cup
June 18 - San Francisco Bay
Today's Graphic of the Day is of the course for this Friday, Saturday, and Sunday's Sausalito Cup for IACC boats on San Francisco Bay. There will be one race on Friday starting at 1 p.m., and two races on both Saturday and Sunday, with the first start at 10 a.m. and the second starting shortly after the finish of the first. The boats, normally based at Treasure Island, will be on the hook right off the Sausalito YC for prime viewing.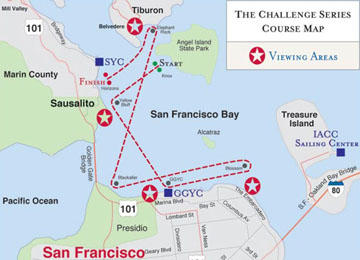 Organizers John Sweeney and Tina Kleinjan have created a mostly reaching course designed to give as many spectators on shore as possible a chance for a good look. Yellow Bluff will be a prime viewing location as will the San Francisco Cityfront. The couple welcome folks with boats to tag along for as long as they can keep up - these IACC boats reach at speeds of around 17 knots - but please give plenty of room to prevent collisions.
Yachts scheduled to race this weekend include USA-11, with Sweeney and Kleinjan sharing the helm; Oracle BMW Racing, with Larry Ellison at the wheel; NZL-20, with David and Karie Thomson driving; Il Moro di Venezia, with Peter Stoneberg at the helm; and certainly not the least, NZL-14 with Mary Coleman behind the wheel. Former members from Seattle's OneWorld Challenge will be on board NZL-20, with Charlie McKee as tactician and David Endean on bow. The new Oracle BMW Racing team will see Gavin Brady and Chris Dickson in the afterguard. On board Il Moro di Venezia Dee Smith will be on tactics. USA-11, sponsored by Wells Fargo, will have David Barnes calling tactics. For Mary Coleman, Silicon Valley venture capitalist, Farr 40 owner and skipper, Ha-Ha vet, and really fun person, the regatta will be her first time behind the helm of an America's Cup Class yacht. Coleman has chartered NZL-14 for the event and will have Sylvain Barrielle, veteran of four America's Cup campaigns, supporting her as tactician.
This is the first of four ISAAC events Sweeney and Kleinjan have set up for the summer, with the really big one slated for October. It's going to be very exciting to see how these boats - which were mostly built for lighter winds - do when the summer breeze starts snorting through the Gate during the afternoon races.