Delightful Delta Ditch Run
June 16 - Stockton
The delightfully easy 13th annual Delta Ditch Run featured 132 starters out of 140 sign-ups. The fleet rode a flood the whole way. Don Jesberg and Zarko Draganic teamed up to win first overall for the third time in a row - different Melges, same result. We'll have more in the July issue of Latitude 38, but for now here are the top finishers and some photos:
EXPRESS 27 - Swamp Donkey, Scott Sellers
MELGES 24 - Ego, Don Jesberg
MOORE 24 - Eclipse, Brad Butler
WYLIE WABBIT - Kwazy, Colin Moore
J/22 - Tinseltown Rebellion, Cam Lewis
LIGHT I - Shop Girl, Sierra 26, Kim Desenberg
LIGHT II - Moonshine, Dogpatch 26, R.B. Ward
HEAVY I - Yucca, 8-Meter, Hank Easom
HEAVY II - Cowabunga, Schock 34-PC, Pat & Marilyn Brown
HEAVY III - Happy Houka, Cal 27, Greg Goodman
HEAVY IV - Valkyrie, Peterson Quarter Ton, Michael Tosse
MULTIHULL - Hobie 21, George Pedrick
OVERALL - Ego


The fleet parades through Carquinez Strait.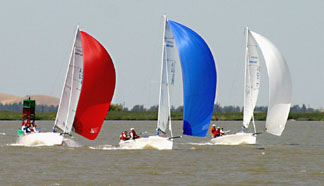 A trio of Melgi looking patriotic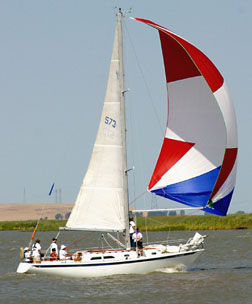 Ed Almaas' Maria finished second in Heavy III.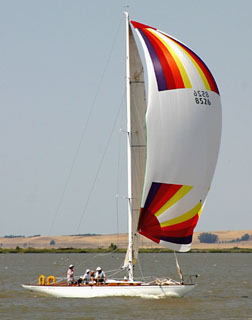 Hank Easom's Yucca won Heavy-I.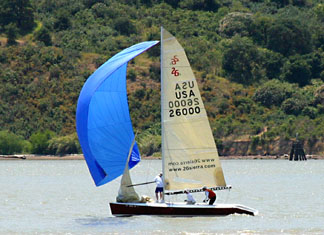 Light-I winners Shop Girl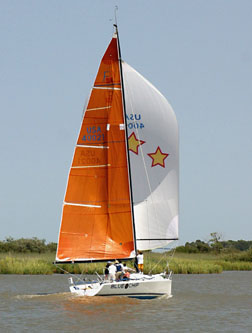 The Farr 40 Blue Chip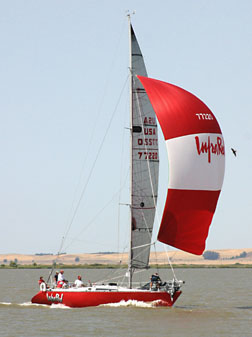 The Davidson 44 Infrared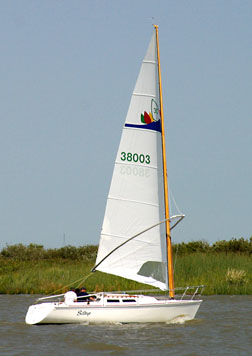 Silkye was the only Wyliecat 30 to make the pilgrimage.
Photos Elaine Smith