Photo of the Day
May 7 - Ensenada, Baja California
Today's Photo of the Day was sent to us by Walter Johnson of Chayah, who says that it's of his mainsail trimmer Chuck 'Sleeping Beauty' Ray, after the recent Ensenada Race.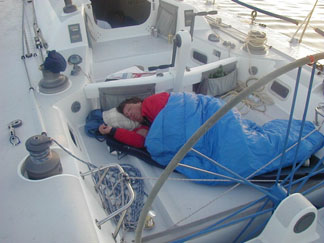 Photo Courtesy Chayah
Johnson sent the following to his crew: "We may not have gotten the press we deserved, but we are now part of Ensenada History. We will forever be part of the Secretary of Foreign Relations Trophy, the one given to the boat with the third best corrected time of the first place finishers in the ULDB class. This trophy was originally given to the winner of Class B, and in the past has gone to such notable boats as Cotton Tail, Dog Patch, Bingo, Christine, Brisa, the late Pandemonium, Allegiance, Elusive, Medicine Man, Alchemy, Out of Bounds, Pyewacket and J-Bird. We are in terrific company, something that no one can take from us. It's quite an accomplishment to go out and win one of the 17 or so perpetual trophies that are handed out among the 461 competitors. No one will remember that we raced against only five boats."
Five boats or 50, it's still a trophy.