Schwab Saved the Best for Last
May 5 - Newport, RI
Alameda's Bruce Schwab with the Wylie 60 Ocean Planet turned in his best Around Alone finish, taking fourth in Class 1 on the final leg. Until near the end, the drastically underfunded competitor with an equally drastically narrow boat had actually been in second. Former Southern Californian Brad van Liew, as has been his custom throughout the event, clobbered everyone else in Class 2 with Tommy Hilfiger.
Bernard Stamm, of course, convincingly won the event with Bobst Group-Armor Lux. Second finisher Simone Bianchetti of Tiscali, however, had the most dramatic finish: "During his last night racing, Italian skipper Simone Bianchetti informed his shore team and the race organization Tiscali would be arriving before dawn, but he was worried about his mast because he could not take more than one reef in the mainsail and yet the wind had risen to 45-50 knots.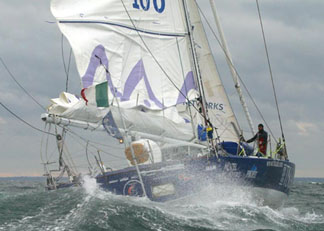 Tiscali a hundred yards from the finish of the Around Alone
Photo Roy Riley/Marinepics
Courtesy www.aroundalone.com
"His worst suspicions were confirmed at 0415 hours local time Saturday, just 30 miles from the end of a 28,000 mile circumnavigation, when in the dead of night Bianchetti heard that fearful sound of carbon cracking and came out of the cabin to find his mast had snapped just above the third spreader. Amazingly, the spar was still dangling by the threads of the halyards, with the mainsail still attached.
"Just one hour later Bianchetti called again: 'I am back sailing at 8 knots and have less than 16 miles to go. Make sure everyone is there to greet me.' With the mast upright, Simone had set his staysail and lashed any dangling parts of the rig to stop them from smacking into the boat. He was able to bear off and still make course, and with the mainsail flapping in the wind and the staysail drawing, he nursed his crippled yacht, tacking slowly across the bay and crossed over the finish line in Newport at 08:01:30 local time (12:01:30 GMT)." You can read Brian Hancock's complete report at www.aroundalone.com/raceviewer/archive/20030503/5855.html.