Lightning Strikes in Ensenada for the Second Year in a Row
April 28 - Ensenada, Baja California
Earlier this week Tom Leweck, founder and editor of Scuttlebutt, told us he wasn't going to do this year's Tommy Bahama Newport to Ensenada Race - "the largest international yacht race in the world" - because last year's record setting conditions couldn't possibly be bettered. Having sailed on Locomotion, he told us he not only covered the 125-mile course, but also had time to party and make it all the way back to his Marina del Rey home in less than 24 hours. Leweck is probably kicking himself today, because Friday's 56th annual Ensenada Race - featuring 461 entries - turned out to be the fastest in history.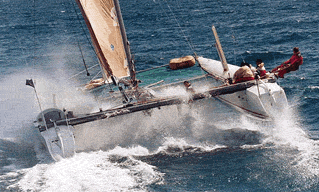 Afterburner in action
Photo Courtesy Bill Gibbs
Although it was only blowing five knots at the start, two big monohulls set the pace - Roy Disney's R/P 77 Pyewacket, which has set records all over the world, and Dick Compton's just-out-of-the-box-last-week-from-Dencho Andrew 77 New Alchemy. By 4 p.m., however, Bill Gibbs' 52-ft catamaran Afterburner from Ventura passed Pyewacket, then New Alchemy, hitting speeds of up to 23.5 knots in just 17 knots of true wind. Having pulled a horizon job on even the fastest monohulls, Gibbs was forced to sail the final miles under main and jib, as dropping the new cuben fiber spinnaker somehow caused the bowsprit to be pretzeled. Nonetheless, Afterburner finished in 9 hours and 40 minutes - over a 12 knot average.
It wasn't until near the end at Todos Santos Island that Pyewacket managed to overhaul New Alchemy, but they did, finishing in 10 hours and 44 minutes, a new monohull record. Overall winner was Valkyrie, Don Albright's 30-year-old Cal 25. We don't know who finished second, but Dennis Conner sailed his new Cal 40 Persephone to third overall and first in class. And what a class, as no less than 20 of the 40-year-old Cal 40s competed.
For results and other details, visit www.nosa.org.