Nemesis Down South
April 29 - Ensenada, Baja California
"We had a great Newport to Ensenada race, correcting over Pyewacket and others to fourth place in the impossible ULDB A division," reports Paul Martson of the Encinal YC-based Antrim 27 Nemesis.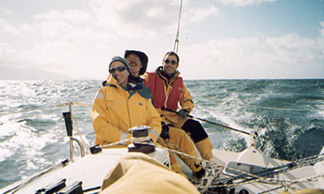 Sailing to the isthmus
"A little background. . . I took the week off to play with Simon Shortman's (and my) Antrim 27. I trailered down and the crew, Debi Cohn, Dean Daniels and Alex Teodoro, showed up for a sail to Catalina, then to Newport for the race (Johnathan Bruce took Dean's place for the race). We were hoping for a few days of warm, light air partying - uh, I mean sailing. But it was howling when we left Oxnard. With a double reefed main and a scrap of jib, we made Isthmus Cove in 6.5 hours (averaging just under 10 knots). And it was cold. Water: 58 degrees. Air: not a degree warmer! We sailed to Avalon, where it was a touch warmer and we pretended to be teenagers on Spring Break.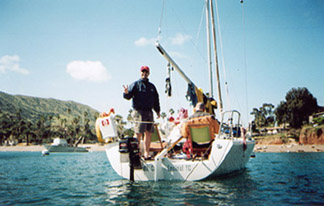 At Two Harbors
"On Thursday we crossed over to Newport where the Equipment Inspector (the ever friendly "Sandy") was surprised to see cruising paraphernalia - including BBQ and beach chairs - on this surf machine. The race committee left us in the freak boat fleet, competing for the President of Mexico Trophy in ULDB A, along with boats like Medicine Man, Yassou, Pendragon, Pyewacket, and a lone Melges 24. We did well, fourth in class, and 39th out of 461. The results have us sailing as PSSA members, which we joined to satisfy the SoCal YC requirement (which is goofy)."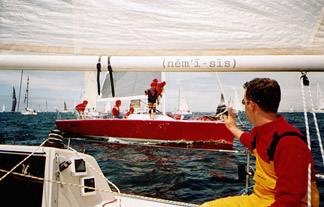 The start in Newport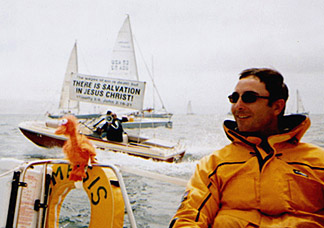 A powerboater seemed to think
sailors are in need of salvation.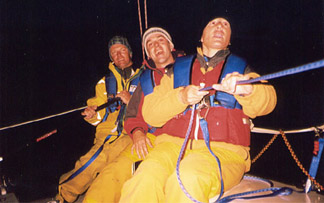 The night shift
Photos Courtesy Paul Martson
For a report on the front runners in the record-fast race, see yesterday's 'Lectronic.