Photos of the Day: Island Weekend
April 14 - Catalina
Today's Photos of the Day are from yesterday at Catalina, which was our first visit of the year after coming north from Mexico. In the first shot you can see that the air was rather clear, as the Palos Verdes Peninsula on the mainland was distinctly visible from Avalon.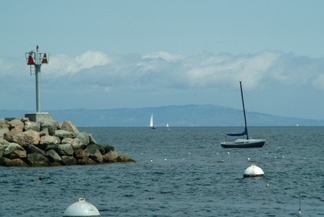 The second shot shows that the harbor was relatively crowded for an early April weekend with variable weather and sometimes overcast skies.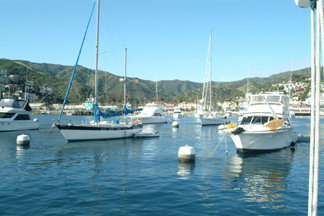 By the way, mooring fees have gone up. We used to pay $36 a night for the 63-ft Profligate, but now it's up to $42. And we're told it will likely be raised again in July. The shoreboat fees took an even bigger jump, a whopping 33% increase from $3 to $4 per person each way. So either take your dinghy or lots of cash to the Island.
All Photos Latitude/Richard
The boat moored directly behind us was the Hughes 39 catamaran Free Wind that Jason of El Segundo brought out from Florida for day charters off the island. She's Coast Guard certified for 40 passengers, which seems a bit high - even to Jason, who doesn't plan to ever carry that many folks.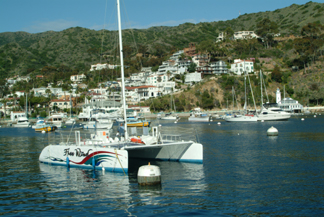 The only bad thing about our weekend at Catalina was having to say adios to Avalon and head to Alamitos Bay. The last two shots are of Profligate's wake a few miles into her channel crossing, and of her GPS at the time. It was only blowing about 13 knots, but when the apparent wind is on the beam, it's easy for a big cat to maintain a smooth and swift pace. It was one of the nicest sails Doña de Mallorca and the Wanderer have enjoyed in a long time.