Photos of the Day: Spinnaker Cup for Charity
March 21 - Banderas Bay, Mexico
Five California-based catamarans and about 75 sailors and innocent bystanders came together for the second annual Spinnaker Cup for Charity on Banderas Bay near Puerto Vallarta on March 18. The event, a casual 12-mile spinnaker run from Punta de Mita to Paradise Marina, was conceived last year by Latitude 38 to benefit the nearby Mescalez School for developmentally challenged children that was started by Mexican yachtswoman Lupe Dipp of the Puerto Vallarta Marina based Beneteau 44 Moon and The Stars. Recognizing the value of the event, the Mexican government now matches all funds raised by the Spinnaker Cup for Charity.
Señora Dipp, who now runs the Spinnaker Cup, enlisted David Crowe of the South Bay based Morrelli-Choy 70 Humu Humu, Paul Biery of the Alameda-based Catana 431 New Focus, Michael Wright of the Richmond-based Hughes 42 Wavy, John Haste of the San Diego based Perry 52 Little Wing, and Latitude's mostly always moving Surfin' 63 Profligate. Each cat carried 10 to 20 guests who had made contributions to the school, some monohulls tagged along. The sailing conditions were lovely, with an average of 15 knots of wind, 82º temps and blue skies.
Lupe Dipp reports that about $800 were raised, which Latitude kicked up to an even $1,000. After hearing about it, Pat Nolan of the Alameda-based Grand Slam put in another $500, bringing it to $1,500. After being matched by the Mexican government, that will mean $3,000. If anyone else wants to make a contribution, it can be done through a San Diego church and gain a legal U.S. tax deduction. Email Richard for details.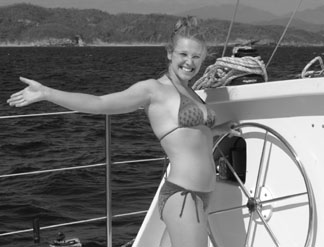 Stephanie Wayne
See Sightings in the April issue of Latitude 38 for more, including maybe some pictures of boats.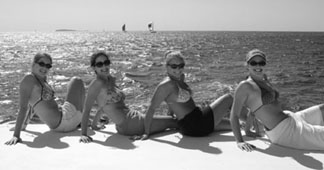 These juniors from Dartmouth, in Mexico on spring break,
joined the Profligate crew at the last minute. They are featured in the individual shots that appear below.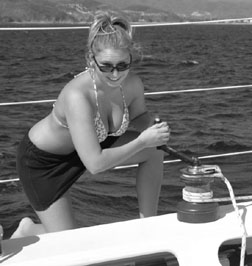 Alexis Sheehan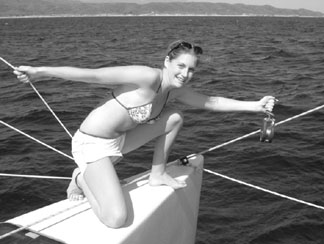 Danielle Luber
Photos Latitude/Richard