Photos of the Day:
Biggest Ever BVI Spring Regatta
April 9 - Bitter End, BVI
The recently-concluded six-day BVI Spring Regatta and Sailing Festival, presented by Nanny Cay Marina, provided the full "BVI Sampler" for participants on a record 138 boats - up from the previous high of 114. A big part of the attraction was the inaugural Sailing Festival, which attracted a 38-boat fleet for three days of R&R at the famous Bitter End
YC. The fleet raced up to the BEYC on Tuesday (Bill Alcott's Andrews 68 turbosled Equation won), enjoyed an activity-packed layday on Wednesday, and sailed a pursuit race back to Nanny Cay on Thursday (the Antrim 27
Rhumb Squall won). In a happy coincidence, about 125 St. Francis YC members were also at the Bitter End during that time, passing through on bareboats during their Commodore's Cruise.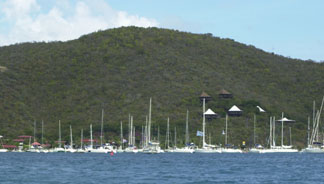 The Bitter End was stuffed to capacity with racers and the StFYC cruise.
The serious racing started on Friday, with 18-knot trade winds propelling the fleet through four quick buoy races on two different race circles. The next day featured three rainy races, held between whiteout squalls and a vicious thunder and lightning show. The regatta ended with a whimper on Sunday, as the grand finale - a 30-mile tour around the island of Tortola - was shortened for the biggest boats, and called off for the majority of the fleet due to light wind. Class winners included the new J/V 66 Sotto Voce, the Swan 56 Lolita, the J/27 Magnificent 7, the IC 24 Crowley Shipping, and the Swan 48 Celerity. Look for full Technicolor coverage - well, black and white at least - of this excellent regatta in our May issue. We also hope to have more photos from the layday dinghy racing later in the week. In the meantime, check www.bvispringregatta.com for results and pictures.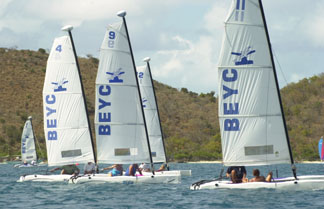 Hobie Waves in layday dinghy racing.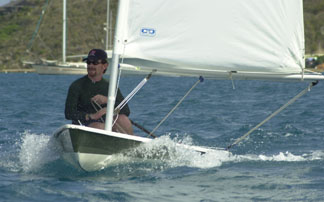 Ron Sherry was second in the Laser Division in the layday dinghy racing. The trimmer on Equation, Sherry is famous around the Great Lakes as a four-time world champion ice boater.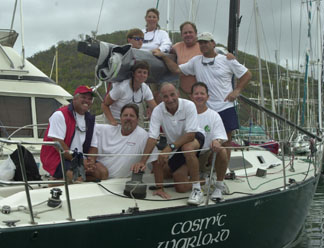 Mick Schlens chartered an Express 37 from BEYC and brought his own sails and a crew of SoCal pals.
Photos Latitude/Rob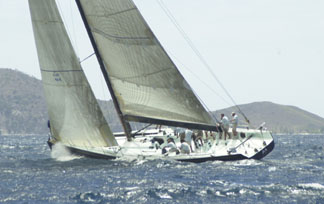 The J/V 66 Sotto Voce was the big winner.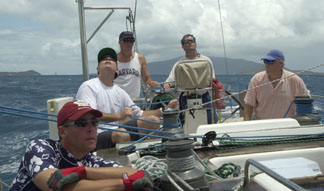 Onboard the Swan 48 Wind Dancer with the BEYC team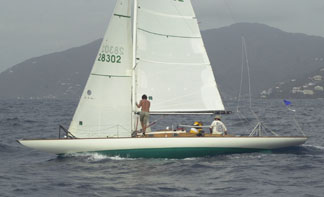 A familiar sight to Bay Area boaters: Diva, ex-Rumbleseat, Bruce Schwab's old boat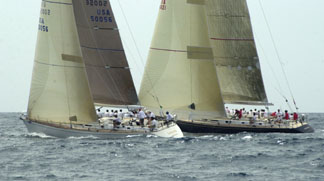 Dueling Swans: Lolita (56-ft) getting rolled by Chippewa (68-ft)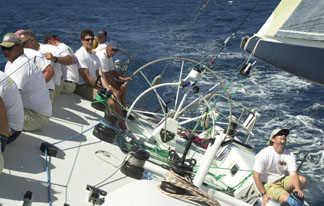 Onboard Equation en route to winning race up to BEYC.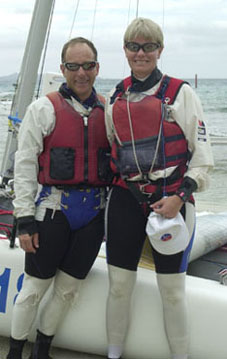 SoCalifornians Jay and Pease Glaser, second place in beach cats, dressed for battle.