Tips on the Baja Bash
April 7 - Cabo San Lucas, BCS
"I saw Doña de Mallorca and Profligate in Cabo at the beginning of April before they started the Baja Bash, and she seemed surprised I was still around!" writes Captain Jim Elfers, author of the now out of print Baja Bash. "Baja ain't perfect, but I still prefer it to the Great North, and even obtained Mexican citizenship recently. I split my time between deliveries, surveys, and my bed and breakfast. In any event, she indicated that you were going to try breaking Rule #1 of the Baja Bash by returning home in the spring! My book is long out of print, but since you asked, here is a rehash of two pertinent areas:
"Skipper Tim Murison is right to go out to the San Benitos. As I wrote in the book: 'The vast majority of boats heading north always go east of Cedros, enjoying its lee for several hours. My philosophy is to go west of the island. Why? 1) It allows you to give Punta Norte at least a six mile offing. 2) It's a shorter rhumbline course to San Diego. 3) Going outside gives you an immediate and clear idea of what the weather is like as opposed to guessing and hoping from the lee. 4) Since you will usually know the true weather before you reach Cabo San Agustin, you have the option of changing your mind and rerouting to the east side of the island or anchoring at Bahia Sur. 5) The fact that if you do commit yourself to the west side and start to get hit by heavy air, you still have the excellent anchorage at Islas San Benitos. 6) This course sets sailboats up for a much better sailing angle to cross over to 'mainland' Baja than coming from the lee.
"As to Profligate breaking Rule #1, here are the eight rules as written in my book - remembering that they are more appropriate for a retired couple from Los Angeles cruising in a Catalina 36 than you folks in a 63-ft twin diesel catamaran:
1) Avoid Spring. 2) Get Comfortable With Your Boat - meaning be confident in your ability to bleed the diesel, sail at night, and so forth. 3) Bring The Right Stuff - meaning emergency repair items. 4) Optimize Your Vessel - meaning clean the prop, reduce windage, distribute weight properly, and so forth. 5) Jump On A Favorable Weather Window. 6) Avoid Afternoon Cape Transits. 7) Keep The Mainsail Full And Driving - referring to powertacking. 8) Go outside rather than inside Cedros.
"As for the Irwin 37 who did the Clipper Route and sailed 2,700 miles in 28 long, cold days on the wind, that's not a terribly impressive time - although it was for an Irwin 37. He mentions that he arrived in San Francisco before other boats made it to San Diego. Assuming that is true, and that most cruisers are retirees or have minimal time pressure, could it not be possible that the other boats enjoyed a few days in Cabo, anchored in Mag Bay, traded for lobster or fish in Turtle Bay, or checked out Ensenada or San Diego? None of these are options on the Offshore Route, but more power to those who can or wish to."
Readers - Elfers is correct in that spring is the worst time to come north along the Baja coast. Late winter and early summer would both be considerably better for weather - plus you'd have more time to enjoy warm water waves such as these at La Launcha near Punta de Mita.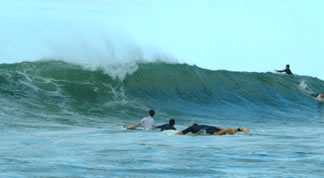 Photo Latitude/Richard
But since Profligate has to be in Mexico through late March's Banderas Bay Regatta and then has obligations in Southern California by mid-April, spring, the worst time of year to come north, is when it has to be done. Like Elfers, we would not recommend coming north from mid-March until mid-May. In fact, if we were a retired couple with a Catalina 36, we'd have the boat trucked back to California from San Carlos.
In a related issue, does anybody know why they don't run a semi-submersible yacht carrier from Puerto Vallarta to Southern California in about mid-May? We think there would be a tremendous market from such a service. Old hands will remember they used to put yachts on a ship for the run from Cabo to Newport Beach . . . until somebody ran off with all the money.
Our last word on the Baja Bash is that the engine(s) should be checked very carefully before leaving Cabo. As Wayne Meretsky was checking Profligate's port engine, he discovered that the bracket for the high-powered alternator had cracked. Although it looked fine even when running at high speed, a close inspection revealed the problem. It was quickly repaired.
Profligate is now in San Diego, having made it from Cabo in four days and a couple of hours, averaging over eight knots for the trip, including the stop for fuel at Turtle Bay (where Ernesto might as well have been wearing a bandito outfit). Although the trip started out in flat water, it got and stayed rough and sloppy from south of Turtle Bay to San Diego. There were lots of launches over waves and plenty of slamming, nonetheless the cat did a pretty good job of maintaining speed - thanks to a great crew of five.