Yachties - Including One Boat from Sausalito - Shot at Off Yemen
March 14 - Gulf of Aden
Don and Katie Radcliffe of the Santa Cruz-based Klondike, currently racing in Malaysia, received the following email from their Aussie friends aboard Penyllan off the coast of Yemen on their way to the Red Sea. "At 0800 on March 9, we were in the company of four other yachts 50 miles off the coast of Yemen and 100 miles from Somalia. The other yachts were Sea Dove with Rod and Karyn from Brisbane; Gypsy Days with Brian and Margaret Horwell from Melbourne; Narena, with Bruce and Cheryle Matthew from Phillip Island, and Imani, with Mark and Doreen and Maya and Tristan from Sausalito. We spotted three fast moving motorized dhows coming across our track from the direction of Somalia towards the Yemen coast. I was just about give a routine position report to an SSB net where by chance, Mike, the skipper of Bambola, a yacht attacked near here a week ago, was describing his attack. I broke into his conversation and asked for a quick description of the boats that attacked him. His response described the ones approaching us: local dhows, 20 meters long, probably made of wood judging from their radar echo, and inboard powered. They were covered with bright blue and orange plastic sheeting, possibly to conceal their identity or their cargo.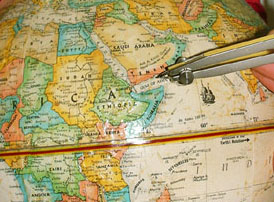 Yemen and the Gulf of Aden
Photo Latitude/Annie
"By this time we had formed a very tight group and had increased speed to the maximum we could sustain as a group, which was about 6.5 knots. One of the three dhows diverted and was heading directly for us from our port quarter. When he was about half a mile away we heard shots fired. We immediately called Mayday, Karyn on Sea Dove using VHF while I called the skipper of Skive and the skipper of Bambola, who were in direct communication with the German Navy HQ in Djibouti. They informed us that help was on its way, but would take several hours. Repeated calls of Mayday on other channels brought no response.
"The dhow was only very slowly overtaking us, and as no further shots were fired, an anxious 10 to 15 minutes followed as they gradually drew astern and we tried to coax more speed from our engines. His other two companion vessels did not seem to take an enthusiastic part in the pursuit, as both appeared heavily laden with people. All this time Karyn and I and some of the others kept up a barrage of Mayday calls and updating of the contacts that we had managed to make by the various radio frequencies.
"A Panamanian registered freighter answered one of Karen's calls and said that he was turning towards our position. Then a U.S. warship called and said he would be at our position in three hours. Finally, the attacking boat gave up the chase and turned for the Yemen coast. He might have given up because of the obvious long chase he faced, because we were a closely grouped bunch of five yachts, and because he was heavily laden with passengers. The appearance of the merchant vessel Royal Pescadores might also have been a deterrent.
"At 0912, a Coalition Forces Orion 4-engined Navy aircraft made contact, flew over, and then headed down the coast ahead of us! The pirates were astern. On his second pass, we managed to indicate to him the direction in which he had fled, and he took off in that direction. He later returned, asked if we needed assistance, then departed. At 1050 he returned one last time and asked for details of the yachts involved, reporting that he had seen many local small vessels but could not identify our attackers.
"Thankfully, we have escaped that attack unscathed and will pass the worst danger zone by tonight. We have 2-3 days to go before we enter the 'Gates of Sorrow' at the southern end of the Red Sea and head for the relative safety of Eritrea. As you can imagine our adrenaline is up, but we are pleased that we all handled things well under pressure, and very grateful that we have been so lucky."
The Gulf of Aden has, in recent years, been the scene of a number of violent attacks on yachties. As such, yachtie convoys are common.
As for the Radcliffes, they're participating in the Royal Langkawi International Regatta with their Beneteau 456 and having a ball. "We're doing well in Cruising Class B, even without a spinnaker, and can hardly keep up with all the parties and sailing too! It's just like the King's Cup in Phuket, Thailand."