TransPac Rising Like a Phoenix
March 12 - Los Angeles
The biennial Los Angeles to Honolulu TransPac, one of the classic yacht races in the world, had its prime in the late '70s and early '80s with 80 entries in '79, followed by 74 entries, 66 entries, 64 entries, and 55 entries. The last two TransPacs were way down, with just 33 boats each time. The much newer West Marine Pacific Cup from San Francisco to Kauai had totally taken over, with more than double the participants.
When TransPac Commodore Brad Avery looked at prospects for this year's race, they were dim. All the 70s have gone to the Great Lakes, the TransPac 52 class is faltering, and there are big war and economic worries. Avery feared it might be a 19-boat TransPac.
Well, as of early March there were a mind-boggling 59 entries with more expected. Avery can't put his finger on the exact reasons, but he says that Jerry Montgomery and Bill Lee have played a big role, helping interested parties become actual entries. Avery says there also seems to be some 'I might not be able to do it next time so I'd better do it now', attitude, as well as some folks feeling this is a year to have fun in America as opposed to Europe - for obvious reasons.
One of the neat aspects of this year's TransPac will be the one-design fleet for Cal 40s, which will be celebrating their 40th anniversary. The most TransPac-y boat in history, 10 Cal 40s are already signed up, and everyone is waiting to see if Dennis Conner, who recently purchased one, will enter his against the likes of Stan Honey.
It's still possible to sign up for the TransPac. Contact Entries Chairman Bill Lee at (831) 464-4782.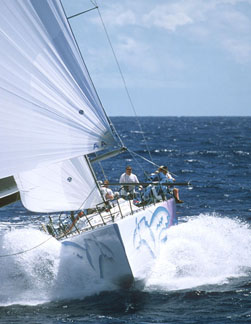 Photo Sharon Green
The current entries are:
RACING DIVISION
Division 1 (starts July 6)
Pegasus 77 (Reichel/Pugh 77), Philippe Kahn, Honolulu
Pyewacket (R/P 75), Roy E. Disney, Los Angeles
Division 2 (starts July 6)
Alta Vita (Transpac 52), Bill Turpin, Santa Cruz
Beau Geste (Transpac 52), Karl Kwok, Hong Kong
Grand Illusion (Santa Cruz 70), Lahaina, HI
Helsal II (Adams 60), W.E. Rawson, Melbourne, Australia
Icon (Perry 65), Richard Robbins/Jim Roser, Seattle
Medicine Man (Andrews 61), Bob Lane, Long Beach
Mongoose (Santa Cruz 70), Robert Saielli, San Diego
Pendragon 4 (Davidson 52), John MacLaurin, Marina del Rey
Vicki (Andrews 68), Al and Vicki Schwartz, Long Beach
Division 3 (starts July 4)
Dasher (Santa Cruz 50), Roger Groh, San Francisco
Horizon (Santa Cruz 50), Jack Taylor, Dana Point
Innocent Merriment (J/160), Myron Lyon, San Diego
Maitri (J/160), Peter Johnson, San Diego
Pipe Dream IX (J/160), Scott Piper, Coral Gables, FL
Reinrag (J/125), Tom Garnier, Portland, OR
Division 4 (starts July 4)
Bolt (Olson 40), Craig Reynolds, Balboa
Bravado (Elliott 46), Charles Breed, Alameda
Challenged America (Tripp 40), Urban Miyares, San Diego
Cool Man Cool 2 (Sydney 38), Harrell Jones, Dana Point
Lawndart (Cape Bay Fast 40), Bill Allan, Nanaimo, BC
Paddy Wagon (Ross 40), Richard Mainland, Marina del Rey
Swept Away (J/120), Louis Bianco, Seattle
Terra's XL (ILC 40), Anthony Barron, Las Vegas, NV
There and Back Again (Tripp 40), Robert Rice, Long Beach
Uproarious (Olson 40), Robert Bussard, San Diego
Divisions to be determined
Axapac (Wylie 39), Barry Ruff, Vancouver, BC
Krakatoa (Young 32), Rod Skellet, Sydney, Australia
Masquerade (Choate 40), Timothy Coker, San Diego
Pipe Dream (Choate/Feo 37), John Davis, Long Beach
Rapport (Farr 1104), Gavin Morris, Auckland, NZ
Tabasco (1D35), John Wylie, San Diego
Wild Thing (1D35), Chris and Kara Busch, San Diego
ALOHA DIVISION (starts July 1)
Aloha A
Enchanted Lady (Roberts 55), Andy Sibert, Seal Beach
Incredible (Swan 53), Rick Gorman, Los Alamitos
Just Imagine (49' cutter), Thomas Camp, Walnut Creek
Lady Bleu II (Dynamique 62), Roger and Brenda Kuske, San Diego
Maria R (Beneteau 50), Jon Richards, Mesa, AZ
Windborne (Gulfstar 50), Tom Ryan, Marina del Rey
Aloha B
Barking Spider (Catalina 38), David Kory, Point Richmond
Sea Dancer (Ericson 35), Alvin Wheatman, Marina del Rey
Tango (Beneteau 40), Howard Raphael, Sausalito
Wind Dancer (Catalina 42), Paul Edwards, Wilmington, DE
Aloha B/Cal 40
California Girl, Don and Betty Lesley, Point Richmond
Celebrity, Gerald Finnegan, Redondo Beach
Flying Cloud, Darrell and Scott Wilson, Long Beach
Illusion, Stan Honey, Palo Alto
John B, Greg Boyer, Newport Beach
Ralphie, Jack and Taylor Pillsbury/Eleanor and Davis Pillsbury, San
Francisco
Ranger, William Partridge, Richmond
Redhead, Andrew Opple, Ketchum, ID
Willow Wind, Wendy Siegal, Seal Beach
DOUBLEHANDED (start dates to be determined)
Beach Music (Tayana 52), Kirby Coryell, Lafayette
Beautiful Day (Beneteau 47.7), William Boyd, San Diego
Lucky Dog (J/125), Peter Putnam, Newport Beach
Starbuck (Black Soo 31), Greg Nelson, Piedmont