Photos of the Day:
Heineken Regatta
March 10 - St. Martin/St. Maarten
Today's Photos of the Day are of the recently completed three-day Heineken Regatta in St. Martin/Sint Maarten, and were taken by the talented and ubiquitous Tim Wright.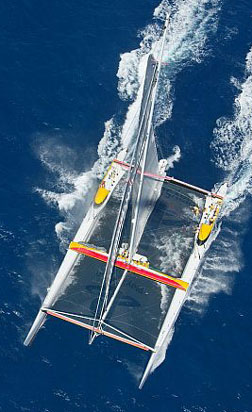 This year's 23rd annual 'Heinie' attracted more than 200 entries, including Steve Fossett's maxi-cat PlayStation, fresh from smashing the east to west transatlantic record.
For those who haven't done a Heinie before, it's strictly a Caribbean style event - which means everybody is welcome, from the smallest and oldest boats to those with trick racing programs; the enthusiasm is very high; and the post race drinking and partying are very hard core. In fact, the day after, lots of participants were seen with their livers in a sling.
Dick Johnson reports: "More blue sky, wind northeast at 15 knots, warm water, little white fluffy clouds, and a stinking hangover from the previous night's ravin' on the waterfront at Marigot intertwine - it must be St Maarten and it must be the 23rd Heineken Regatta. One great thing about St Maarten's three day regatta format is that you - if you are little younger than your reporter - race your ears off all day and party all night for the whole three days, and can still be poured aboard the plane home on Monday. What you will be like back at work on Wednesday, however, is anybody's guess."
Steve Fossett and PlayStation tried to break the two-hour mark in the 37-mile around the island race, but fell short by 4 minutes and 36 seconds. They were a victim of the dying winds on the east coast.
More on this event in the April issue of Latitude 38.
Photos Tim Wright/www.photoaction.com