Happy Halloween from the Ha-Ha
October 31 - Baja California
The Grand Poobah checked in today with this report off Cedros Island, about 45 miles from Turtle Bay.
108 boats started the Baja Ha-Ha, the highest number ever. 34 of the slower entries started on Monday, and they were blessed with the better winds. Journey, a Beneteau Evasion 37 out of Redwood City, and Compañera, a Tartan 3800 hailing from Cardiff, sailed the whole way to Turtle Bay. The boats which started on Tuesday had wind on the nose to the Coronado Islands, and very light or no wind and overcast skies ever since. These are the most un-Mexican-like conditions in the nine years of the Ha-Ha.
One boat, Geronimo, a Lancer 30 from Sausalito, had to drop out with a busted rudder. They put in at Cabo Colnett. Another boat reported catching a 30-inch tuna, but so far no really big fish to brag about.
The fleet is looking forward to more wind and sunshine forecast for this weekend.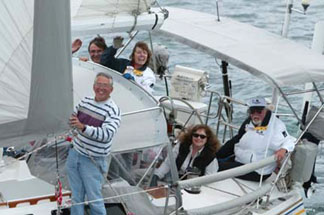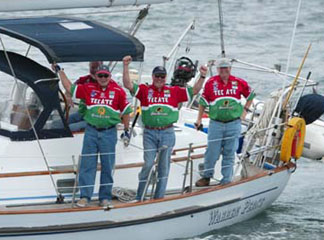 Tuesday's start
Photos Above John Pettitt/Cloudview.com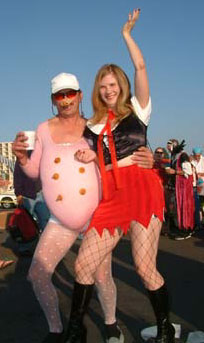 Sunday's Halloween costume party in San Diego
looks like it had the most sunshine the
rally has enjoyed so far.
Halloween Party Photos Latitude/Andy & Richard