Good Sailing Conditions Return to Auckland
November 1 - Auckland, NZ
For the last couple of days, the weather has cooperated with the postponement-plagued Round Robin Two of the Louis Vuitton Cup Challenger Trials, and the Race Committee was able to get in two full days of two races each. Conditions have mostly featured westerlies of 15-20 knots.
Dennis Conner, who first sailed in an America's Cup competition in 1974, made his return to competition when he took the wheel of Stars & Stripes for its match in Flight 8 against Mascalzone Latino. Conner, who hadn't sailed a Louis Vuitton Cup race in three years looked like he'd never been away, steering his team to its second victory in Round Robin Two.
On the same race course, Oracle BMW Racing earned its second consecutive big win with its new afterguard configuration, (Peter Holmberg steering and Chris Dickson skippering), squeezing by series leader Alinghi in a tight win, their second in a row.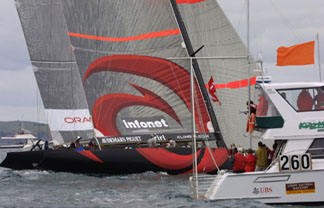 Tight racing between the Swiss and Silicon Valley
Photos Bob Grieser/Louis Vuitton Cup
Le Défi Aréva celebrated its first win of the competition against OneWorld, when the Seattle team dropped their spinnaker in the water and sailed over it. For full coverage, and to follow the racing this weekend, see www.louisvuittoncup.yahoo.com.
In off-the-water news, the International Jury last night agreed with GBR Challenge's request for redress in its Flight 5 match against Alinghi. The Jury directed the match to be re-sailed. That rematch is coming up this afternoon. For the complete story, see www.louisvuittoncup.yahoo.com/story831.html.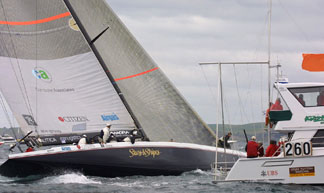 Stars & Stripes crosses the line to win their
match against the 'Latin Rascals'.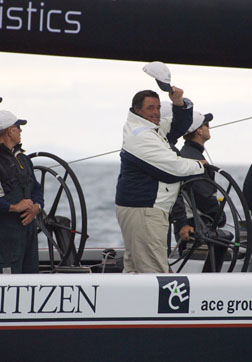 Dennis Conner, back at the helm of Stars & Stripes
Another race of interest coming up today (Saturday in New Zealand) is the match between Le Défi and Mascalzone Latino. The winner of today's match will go on to the Quarter-Finals. The loser will be eliminated at the end of Round Robin Two.