Thanks for Nothing!
June 4 - Gothenburg, Sweden
With just one leg left in the Volvo Ocean Race, Nautor Swan may be wondering if they should have gotten into the event - with two boats, no less - in the first place. Skipper Grant Dalton, who had been surprisingly successful in the early going with Amer Sports One, slammed the effort as being "half arsed" from the start.
More recently, Katie Pettibone of Amer Sports Two, the women's boat, told Rich Roberts, "This has been a joke." Pettibone, the American watch captain, complained that the men's boat received the priority and attention, and got some of the sails originally budgeted for the women's boat.
Bridget Suckling, Pettibone's crewmate, told Roberts, "If there's not enough funding, the shore team's gonna spend more time on the boys' boat. That's how boys work. I used to think that's all well. If you have a fast racehorse in a stable, you put more resources into the racehorse. But that's not why a girls' team is sponsored. A girls' team is sponsored for equal opportunity."
Pettibone and Suckling agreed that it had been totally different the previous time when they sailed EF Education opposite Paul Cayard's victorious EF Language. For the whole story, visit www.yachtracing.com/richroberts/leg8-women.html.
Whether the accusations are right or wrong, it's not exactly music to the ears of those in search of corporate funding for future sailing endeavors. And the blatantly sexist "That's how boys work," doesn't help.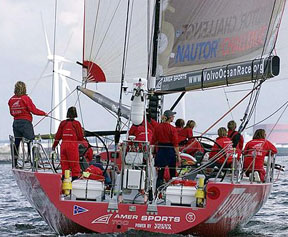 Amer Sports Too finishes Leg 8
Photos Guido Cantini/SEA&SEE
Courtesy www.volvooceanrace.com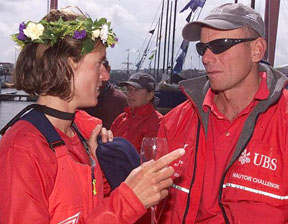 Skipper Lisa McDonald is greeted by fellow Nautor Challenge skipper Grant Dalton in Gothenburg.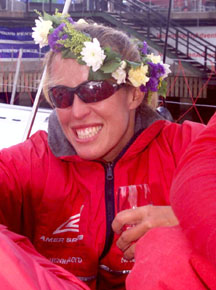 Katie Pettibone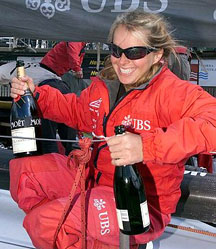 Bridget Suckling