Light Weight or Waterline in Pacific Cup?
June 3 - Pt. Richmond

It's time to get your bets in for who will be first-to-finish in next month's West Marine Pacific Cup from San Francisco to Hawaii. We've been operating on the assumption that it will be Bob Miller's Hong Kong-based Briand 146 ketch Mari-Cha III, which until last year held the TransAtlantic record. Here's a couple of shots of the lovely beast. Notice the size of the rod rigging and the tack for the jib. One of the interesting things is that 15 tons of gorgeous English 'men's club' interior were removed to get the boat ready for racing - which is why you see one of the crewmembers standing in what looks like an empty salon. Since we didn't have an adequate wide angle lens, you don't get a true idea of how wide the salon is - nearly 30 feet. During the race, 14 of the 25 crew will be bunked here. Despite being so huge, Mari-Cha is surprisingly light on her feet. She was built by Sensation Yachts of New Zealand - after the first hull had to be disposed of because of lamination problems.

Anyway, while we were at KKMI Boat Yard, honchos Paul Kaplan and Ken Keefe both bet us a quarter that Bob McNeil's brand new R/P 86 Zephyrus will be first to Hawaii. Zephyrus is the dark hulled boat that is heeled over at the dock - thanks to the water ballast tanks being full on her starboard side. Those who favor Zephyrus figure that Mari-Cha III will use her long waterline to sprint to an early lead in the normal heavy-air reaching, but when it gets to the running, particularly if in light air near the end, Zephyrus will use her incredible power-to-weight ratio to overtake the bigger boat. We favor Mari-Cha, because we think most people don't appreciate how fast she is in even light to moderate winds. In any event, it's going to be fun to follow the daily position reports.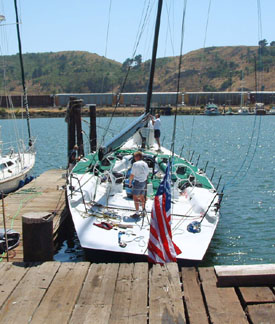 Zephyrus
Photos/Latitude Richard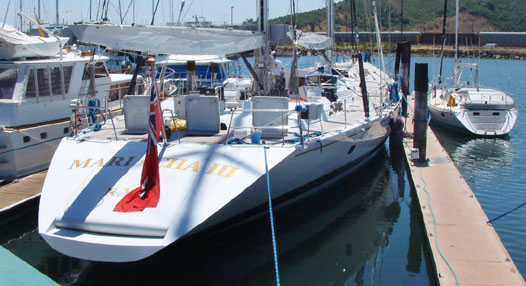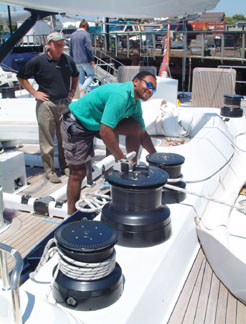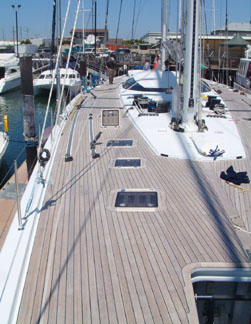 Mari Cha III