Olympic Classes Regatta Wrap-Up
February 4 - Miami, FL
The 2002 Rolex Miami Olympic Classes concluded Saturday with all but one of nine Olympic and two Paralympic classes working in light-air races on Biscayne Bay. The 5-6 knot breezes were welcome after Friday's total lack of wind, which led to cancellation of all racing.
The huge (49 boats!) Star Class only got in two days of sailing, Wednesday and Thursday. Germany's Marc Pickel and David Giles won with 12 points, followed by Bermuda's Peter Bromby and Martin Siese with 15. Sailing for Canada, Ross MacDonald and George Iverson finished third. San Diego's Vince Brun and Mike Dorgan were the top-finishing U.S. team, with USA's 2000 Olympic Gold medalists Mark Reynolds of San Diego and Magnus Liljedahl of Miami finishing sixth.
One competitor from the Bay Area took home gold. Adam Lowry of San Francisco and skipper Andy Mack of Seattle held onto a lead in the 49er class.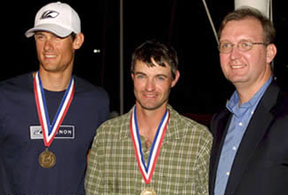 49er Gold: San Franciscan Adam Lowry and Andy Mack posed for a
photo opp with Olympic Sailing Committee Chairman Fred Hagedorn
Photo Courtesy US Sailing
Last year's Europe winner, Meg Gaillard (Jamestown, R.I.) won both of her races Saturday to rise from second to first in her 25-boat fleet. The victory will play well
toward a ranking on the 2002 US Sailing Team. "I've officially begun my Olympic campaign, and I'm feeling really solid," said Gaillard. Alameda's Krysia Pohl finished fourth.
Early leaders in the 470 Men's class, Steve Hunt/Michael Miller (Hampton,
Va./Charleston, S.C.) maintained their lead with a fourth-place finish in race one Saturday. The duo sat out the last race, having mathematically wrapped up the series. "We're happy because last year at this regatta we lost by one point," said Miller. Mark Ivey (Huntington Beach) and Ward Cromwell (New Orleans, La.), who were second overall going into the last day of racing, were disqualified for kinetics in Saturday's first race and fell to fourth overall. Their slip-up allowed the top women's team, last year's winners Courtenay Dey/Linda Wennerstrom (Westerly, R.I./Key Biscayne, Fla.) to better their position in the 21-boat fleet to a third overall. "We had a choice of sailing the 470 or the Yngling for this event," said Dey, USA's 1996 Europe Olympic Bronze Medalist, who in an unusual move has - with Wennerstrom - launched Olympic campaigns in both classes. "I'm glad we chose the 470, because the competition was great and this was the last chance to improve our U.S. ranking in that class. We'll get right into a Yngling next weekend for a ranking regatta in that class."
The Laser class was packed with action as Great Britain's Paul Goodison
showed his prowess and USA's Andrew Campbell (San Diego) and Brett Davis (Largo, Fla.) constantly nipped at his heels. In the end, what looked like a slight edge for Davis over Campbell became a solid second-place finish for Campbell, with Slovenia's Vasilij Zbogar playing the spoiler to Davis's would-be third.
In the Yngling class, Carol Cronin (Jamestown, R.I.), sailing with Liz Filter (Stevensville, Md.) and Kate Fears (Key West, Fla.), turned on the juice to edge out leading team Jody Swanson/Cory Sertl/Pease Glaser (Buffalo, N.Y./Rochester, N.Y./Long Beach). A team led by Betsy Alison (Newport, R.I.) finished third in this dynamic fleet. San Francisco's Dawn Riley and Tiburon's Melissa Purdy, sailing with Hannah Swett, finished fifth out of 18 boats.
In the Paralympic classes, Tom Brown (Northeast Harbor, Maine), the 2002
IFDS World Disabled Sailing Silver Medalist, topped the 15-boat 2.4 Metre
class while Paul Callahan/Keith Burhans/Mike Hagmaier (Providence,
R.I./Rochester, N.Y./Northfield, N.J.) won the six-boat Sonar class. "This is
an important victory," said Callahan, "because it's the first time the disabled classes have been allowed to compete at this regatta. Personally, I'd like to leverage this into helping other disabled people know they can compete at this level."
Complete results and competitor's rosters are posted at www.ussailing.org/Olympics/MiamiOCR/