Olympic Classes Regatta
February 1 - Miami, FL
Florida's the place to be in late January. Following close on the heels of the big boat event in Key West comes the Rolex Miami Olympic Classes Regatta, with racing held January 30 through February 2. 290 sailors from 26 countries have descended on Biscayne Bay this year, an impressive crowd of talent, though down from a high of 744 from 53 countries in 1996.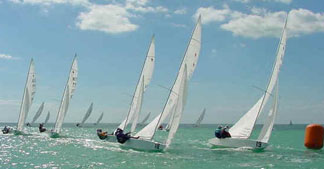 Star Boats approach a windward mark.
Photo Courtesy US Sailing
Among the competitors are some of Northern California's best and brightest, some well-established pros and some up-and-coming young people. 470 Men Mikey Murison and Rusty Canada, both from College of Marin's sailing team (started by Murison) and Richmond YC's junior program, fall into the latter category, as does Mallory McCollum of Concord, another RYC graduate, who is crewing for Floridian Lee Icyda in 470 Women.
A handful of NorCal guys pepper the 49er fleet: Sean Couvreux of Petaluma, Chad Freitas of Albany and Skip McCormack of Novato sailing together, Adam Lowry of San Francisco, and Patrick Whitmarsh of Carmel.
Other local heroes are Molly Carapiet of Belvedere, Susannah Carr of San Francisco, Casey Pelletier of Martinez and Krysia Pohl of Alameda in Europes (Pohl took second place last year); Mo Hart and Patrick Weaver of Santa Cruz and Andras Nady of SF in Finns; Matt McQueen of Walnut Creek, Peter Phelan of Santa Cruz and Tracy Usher of Monterey in Lasers. The Star Class includes Doug Smith of Piedmont (sailing with Michael Moore of Oregon) and Peter Vessella of Burlingame (sailing with Brian Fatih of Redondo Beach).
Perhaps the most famous of participating Bay Area residents is sailing in the Yngling: San Francisco's America's Cup contender Dawn Riley is crewing with Marinite Melissa Purdy for skipper Hannah Swett of Rhode Island. Also crewing on an Yngling is Amy Gross of Palo Alto. No Californians are entered in Tornado catamarans. The event also features two Paralympic classes: the 2.4 Metre and the Sonar.
In the 470 Men's event, Steve Hunt (Hampton, VA) and Michael Miller (Charleston, SC) couldn't have performed better: they lead their class standings with a perfect score built on three first-place finishes Wednesday and three yesterday (Thursday).
In Ynglings, Wednesday's headliner Carol Cronin (Jamestown, RI) fell to second overall yesterday with Jody Swanson (Buffalo, NY) taking the lead. In the 49er class, which completed four races yesterday, Andy Mack of Seattle and Adam Lowry of SF overtook early leaders David Fagen and Bora Gulari.
The star of the Star Class is Miami's Magnus Liljedahl, a 2000 Star Class Gold Medalist in Sydney, who has an idea why this event is so popular, "In Olympic classes, it's getting harder to be competitive because every country is getting better and better. You have to come here to compete against the best."
The Miami OCR serves as the U.S. selection event for the 2002 Pre-Olympic Regatta. Racing continues through Saturday. Nightly updates, results and competitor's rosters are posted at www.ussailing.org/Olympics/MiamiOCR/