Marta Sutton of the Club Cruceros de La Paz reports that Sea of Cortez Sailing Week is scheduled for April 20 through the 27th. What's it all about?
"It starts with the opening ceremonies at Estrella del Mar in La Paz on April 20. On April 22nd the fleet races - if they want - out to Caleta Partida. That evening the beach activities kick off with a get acquainted potluck, at which time the King and Queen will be crowned. Some of the other outstanding events of the week will include: chili cookoff, Race Week Olympics, dessert contest, dinghy races (motor and sail), volleyball competition, men's and women's bikini contests, dinghy-in movies, beer belly contests, over the line baseball, live music on the beach, progressive dinner from boat to boat, plenty of kid's activities, and much more. Oh yeah, there will also be some sailboat racing. But if you don't want to race, there's still plenty of reason to join us. Yes, the anchorage will be packed with raucous gringos primed to have a good time. Yes, there will be so many things to do that you'll have to plan your time carefully. But isn't this what you've all been waiting for - the ultimate cruiser party? If so please join us. Closing ceremonies will be held on April 27. "
For details, visit www.clubcruceros.org.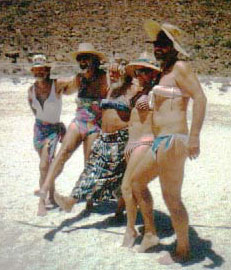 The Men's Bikini Contest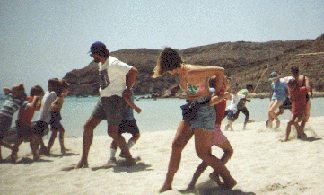 A new Olympic event?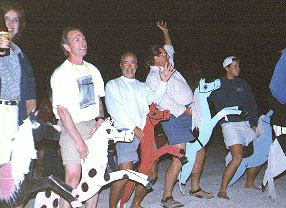 Horse racing on the beach
All Photos Courtesy Club Cruceros de La Paz