English Mom Buys Club Med
February 25 - La Ciotat, France
After last year's The Race, interest in maxi catamarans seemed to plummet. Now it seems stronger than ever. First, Bruno Peyron acquired the 110-ft Innovations Explorer, renamed her Orange, and started a Jules Verne attempt. Then Ellen MacArthur, the English singlehanding phenom, announced that she'd be doing a Jules Verne attempt next January with a maxi cat. And now, Tracy Edwards has acquired the maxi cat Club Med, which Grant Dalton sailed to victory in The Race.
Edwards is no stranger to big time events. She won her class in the '89-'90 Whitbread Around the World Race with an all-female team on Maiden, and in '98 was on a pace to break the around the world record with an all-female crew aboard Royal & Sun Alliance, (ex-ENZA), when the mast came down in the Southern Ocean.
The former Club Med is still at the yard in La Ciotat in the South of France, where she is being cleaned up. Before long, she'll make an attempt at the Route of Discovery Record across the Atlantic, and the Marseilles to Carthage record in the Med. Edwards, a mother, will skipper the boat for those events, but not in the Jules Verne. A name mentioned as the possible skipper for the Jules Verne? Emma Westmacott, who did the Royal & Sun Alliance attempt with Edwards, and who is currently aboard Amer Sports Two in the Volvo Around the World Race. Emma is known to many Northern California sailors for, among other things, being the skipper of Quintessence, a Tayana 55 out of the San Francisco YC, for voyages from the Caribbean to California.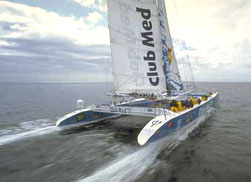 Photo G. Plisson Courtesy Club Med