Key West Race Week Wrap-Up
January 29 - Key West, FL

I dare ya to say that headline three times fast!
Fast is the word for the talent and the hardware that showed up for the 15th running of the event this year called the Terra Nova Trading/Yachting Key West Race Week. Monday's weather didn't lend itself to speed, and Friday was a total bust, but fortunately the middle three days were more cooperative. A dozen Bay Area boats and quite a few from SoCal made the trek east, but the SoCal contingent beat out NorCal in the chase for trophies. In addition, an impressive number of Australians, Canadians, Europeans, Antiguans and Japanese participated, making this a truly international event.
For all the results, see www.premiere-racing.com/keywest/2002%20KW/kw_2002_index.htm. For Rob Moore's complete report, including profiles of the Bay Area teams, lots more photos, top finishers and award winners, see the February issue of Latitude 38, due to hit the streets Friday. We'll have more on Key West in Friday's 'Lectronic, but we'll be taking tomorrow and Thursday off.
Action in the 1D35 fleet: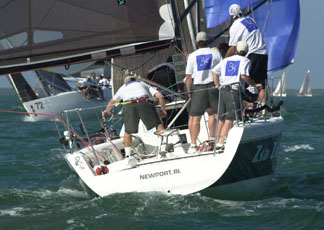 Zsa Zsa, from the Bay Area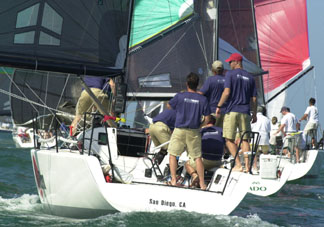 Father and son team Fred and Steve Howe
brought Kaizen from San Diego.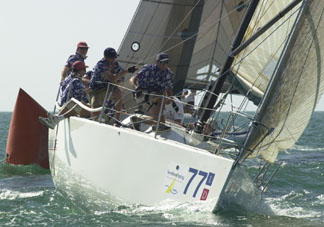 Another 1D35 from San Diego, KT's Choice, rounds a mark.
Above Photos Walter Cooper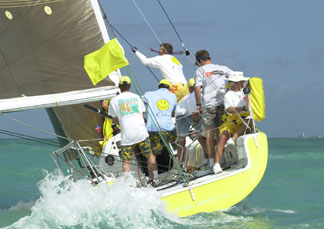 The crew of the yellow boat from Orange County,
the Schock 40 Cita, were having a nice day.
Photo Walter Cooper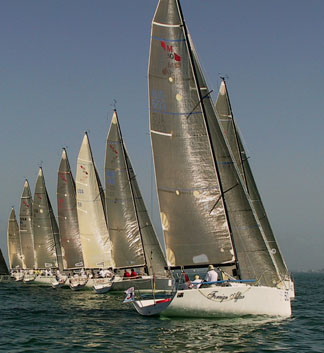 The Australian Mumm 30 Foreign Affair led their division.
Photo Rich Roberts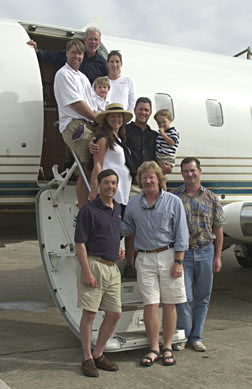 The crew of Masquerade, a J/105 from San Francisco, led by skipper Tom Coates (top)
Photo Rob Moore