Sydney to Hobart Race
December 30 - Hobart, Tasmania
There we were, enjoying a few days off after the Christmas rush, and the Rolex Sydney Hobart 2002 came and went. The fleet left Sydney Harbour, Australia, on December 26, and, apart from two retirements at the start, all 55 yachts have completed the 630 nm passage, finishing in Hobart on the Derwent River.
Alfa Romeo, a Reichel/Pugh 90 from New South Wales, took line honors. Quest, a Nelson Marek 46 also from NSW, won overall on corrected time.
Benign weather conditions prevailed this year, so the only major damage in the sometimes brutal race was caused by the racers themselves. The two entries which retired soon after the start were involved in separate collisions with other yachts. A collision between the Sydney yacht Loki and the Queensland yacht Trumpcard resulted in the retirement of Trumpcard. A collision between the French/Australian entry Peugeot Racing and the Tasmanian boat Valheru saw Valheru also forced to retire after a crew member was thrown into the water and the yacht was seriously damaged. Loki and Peugeot Racing have been disqualified.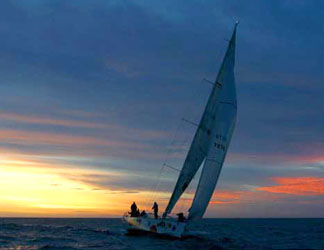 Aspect sails off into the sunset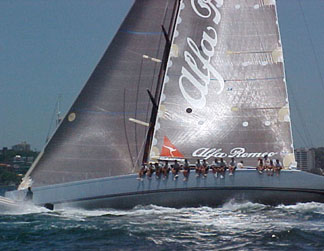 Alfa Romeo was first over the line.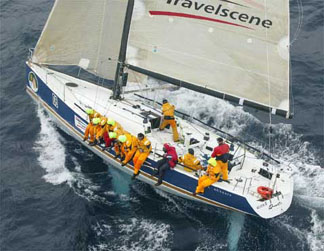 The smaller Quest corrected out to first place.
Photo Daniel Forster
All Photos Courtesy www.rolexsydneyhobart.com
Check out the Web site for more photos and stories.